Hello hungry peoples,
Binnys Kathitto on Lonsdale St serves some unique South Indian street food. Lonsdale St in the city is now a parade of amazing cafes and restaurants. I haven't even begun to explore it properly. It is certainly a pretty amazing place to have your first restaurant. Rosemary and Binny have always had a great passion for food and have long dreamed of having their own restaurant.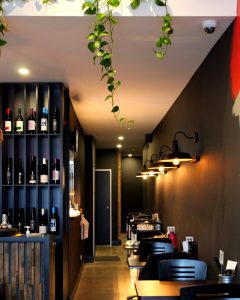 They started small, leaving their corporate jobs in 2015, to open the first Indian Street food van in the Hamlet on Lonsdale St. The van was so popular with locals that they were able to expand and have now realised their dream of their own restaurant. Locals don't despair, it is still on Lonsdale St,  there is just more room for people and food. In fact it is a beautiful and elegant restaurant, with dark wood contrasting with the bright murals painted on the walls by local artists.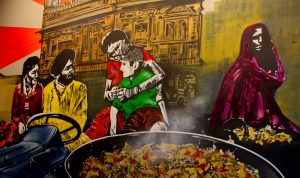 The restaurant is clearly another child for the couple, albeit a very demanding one, and I love the partnership they share in running it. Binny greets all comers and runs a tight front of house. He also constructs some amazing Indian drinks at the bar. Rosemary is happily ensconced in the kitchen, producing heaped plates of deliciousness. She is clearly a natural cook.  When I queried where she got her skills Binny simply said "Rosemary was born an amazing cook, it is innate for her". Lucky man!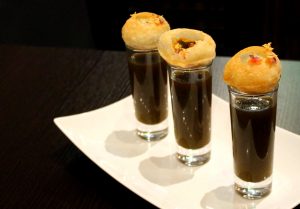 The name "Kathitto" perfectly explains the food on offer, fusing indian street food and western sensibility. Many of the dishes are family recipes that Rosemary has taken and made her own. This has produced interesting variations on classical dishes. Binny and Rosemary are both from South India. This province is known as the "Land of Spices", with a long history of trade and food culture fusion. It is also a coastal area, so seafood is a common ingredient in their dishes.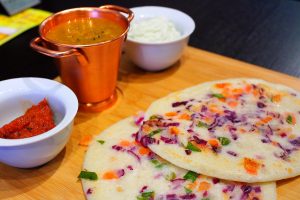 In this region the kathi roll is a popular street food dish. In its traditional form it is a wrap with some kind of filling, meat or vegetable. They serve these at their restaurant but Rosemary has been inventive and turned the humble roll into a spectacular egg coated roti burrito with fresh lime and cilantro flavours and an extensive range of fillings that will keep both the local herbivores and carnivores happy. I haven't tried one yet but it is on my list!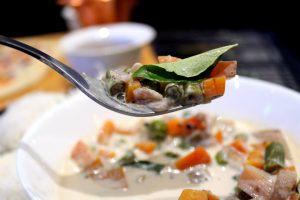 This fusion concept extends to their other dishes, with a focus on clean flavours and healthy food. All the spice mixes and pastes are Rosemary's own creation. Everything is made from scratch with love, care and time. While I visited I watched Rosemary prepare delicate handmade rice noodles, "String Hoppers", and dosa style pancakes, while a number of curries were slowly reducing on the stove.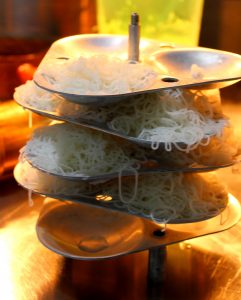 Rosemary confessed that initially she was intimidated about cooking for a thronging crowd but she has clearly grown into the role and moved about her kitchen with an air of confidence and some serious multitasking skills. We also bonded over the fact that we both require step ladders to reach the top shelves in the kitchen. Ah, the plight of the short!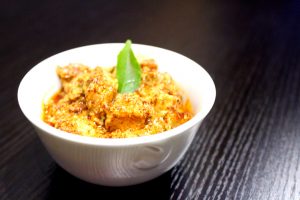 The dosa pancake, Masala Uttapam, has tomato, onion, coriander and green chillies cooked into it. This provided wonderful colour and fresh flavours that I loved. It was served with a couple of chutneys and a sambar (lentil stew). The tomato chutney was fiery and not for the faint hearted. I had never had a coconut chutney before and this was by far my favourite. It is spicy but also cooling and an amazing palate cleanser. The lentil curry has a lovely mildness to it and it was perfect for dipping the pancake into. The hoppers were served with spiced vegetables in a coconut broth. I had seen this simmering away on the stove and the resulting broth was flavourful and delicate, soaking into the noodles. Yummy!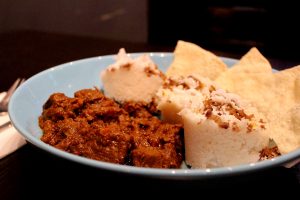 Rosemary also prepared another two sides. Firstly the Hopper pancakes she cooked were perfect, crispy on the outside and light and fluffy inside. I really dig the bowl shape they form. It always seems to be calling out for me to fill them up with food. A side of Erachi Puttu had a little twist on it. I have had it in its basic form, which is steamed rice cake layered with coconut, but Rosemary also interlayered a slow cooked curry, adding another layer of flavour to the dish. It was served as a side but you could have it as a main.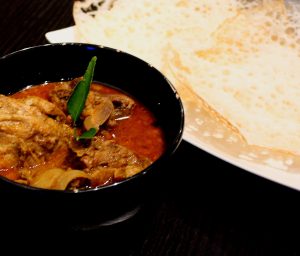 The restaurant also has a range of "Street Specials" comprising a variety of curries. The curries are slow cooked and reduced, focusing and intensifying the flavours. The western influence is evident in the broad range of meat used in the dishes. It is unusual to see an indian duck curry or a pork belly curry, and yes, they taste as delicious as they sound. Rosemary serves the pork belly with a mustard based sauce. She was inspired by the typical meat and mustard sauce served in English cuisine. This was my favourite. Rosemary slow cooks the pork belly, draining the fat off at the end so that you get maximum flavour with less greasiness. The mustard sauce had big mustard seeds in it, creating wonderful flavour without overwhelming the meat. A very balanced and refined dish. The duck curry was also very flavorful and balanced. The delicate duck meat provided a lovely contrast with the sauce, which had a bit of a kick to it. I liked it very much.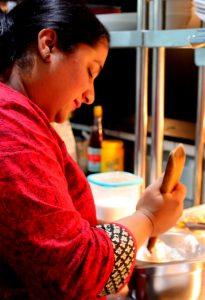 If you are looking for an Indian experience with a twist Rosemary's amazing and tasty creations will fit the bill. This is not a standard Indian restaurant experience full of tandoori chicken and lamb roganjosh. Rosemary and Binny are doing something very different and I like it.