Hello hungry peoples,
Chicken Cacciatore is a quintessential Italian dish. Essentially "Cacciatore" means "Hunter" so this is a hunters stew. It was a point of pride I needed to know how to make this and I have been working on this recipe for aaaaages, trying to build a flavour profile that will knock your socks off.  I don't usually use so many ingredients, a pet peeve I have with Jamie Oliver, so I try to avoid it where possible. With that in mind, feel free to omit some of the ingredients but seriously, if you use all the things it will taste amazing! One of my variations is to use brandy, rather than wine, a trick that I stole from the Napoleonic "Chicken Merengo". It just pairs really nicely with the chicken. The use of anchovies and capers adds a saltiness and lots of olives and porcini mushrooms gives it an earthy punch. Cook everything down for a bit, so it gets thick and tasty, and dig in.
Chicken Cacciatore
Prep time: 20 minutes
Cook time: 40 minutes
Total time: 60 minutes
Yield: 4 serves
Calories per serving: 461

Ingredients
800 g 

chicken thighs

200 g 

mushrooms

1 cup 

olives

1/2 cup 

brandy

1 

onion

700 g 

passata

10 g 

dried porcini mushrooms

2 

anchovies

2 tbsp 

capers

2 tbsp 

oregano

2 tbsp 

parsley

1/4 cup 

parmesan
Cooking Directions
Dice the onion and 2 cloves of garlic and slice the 200 g of mushrooms.
Put a large pot on a medium heat with a generous glob of olive oil. Fry the onion and garlic until they start to brown and then add the mushrooms.
Add a bit more oil to the pan if needed and brown the mushrooms. Remove from pan.
Dice the chicken thighs into large chunks and then fry in the pot until they have browned.
Add the anchovies and let them cook down a bit.
Deglaze the pot with the 1/2 cup brandy. Return the mushrooms, onion and garlic to the pot and allow the brandy to cook down a bit.
Add your passata, 10 g dried porcini, 2 tbsp of capers, 2 tbsp parlsey and 2 tbsp of oregano. Season well and let the pot simmer away for about 20 minutes to allow the sauce to thicken and the flavours to develop.
I like to serve the sauce with fettuccine and a generous topping of parmesan cheese. That's it, you're done!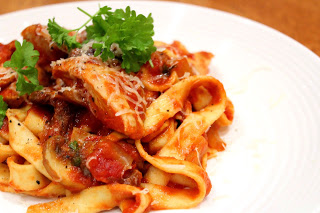 Difficulty: Medium