Hello hungry peoples,
This rustic pie combines classic flavours of chicken, white wine, bacon and mushrooms. It is taken to the next level by one of my latest obsessions – sour cream pastry. It makes the perfect shortcrust and is super dooper easy. Just shove everything in a food processor and away we go!
Chicken and Mushroom Rustic Pie 
Prep time: 15 minutes
Cook time: 55 minutes
Total time: 1 hour 10 minutes
Yield: Serves 4
Calories per serving: 1625
Ingredients
500 g chicken thighs

4 bacon rashers

200 g button mushrooms

1 

onion

Handful of baby spinach and rocket.

2 garlic cloves

1/2 cup white wine

1/2 cup cream
2 tbsp parsley
2 tbsp cornflour
Pastry
1 cup 

sour cream

2 cup 

plain flour

250 g 

butter
Cooking Directions
Preheat your oven to 180°C.
Now we make the dough. The easiest way is to use a food processor. Put the 1 cup of sour cream, 2 cups plain flour and 250 g of butter (diced into cubes) into a food processor and pulse until it comes together. Chill the dough in the fridge for 20 minutes or overnight.
Dice the chicken, bacon, onion, garlic and mushrooms.
Put a fry pan on medium heat with a few tablespoons of olive oil. Fry the chicken until browned. Remove from pan.
Fry the onion, bacon and garlic until browned. Add the mushrooms and brown them as well.
Add the chicken back to the pan. Sprinkle the cornflour on top and mix everything together.
Add the half a cup of wine and cream and cook until it has thickened. Add the 2 tablespoons of parsley, a tablespoon of salt and a tablespoon of pepper.
Roll out the chilled dough into a large round. Ideally this is done with a granite roller to prevent the pastry warming up and the butter in it melting. The pastry is pretty wet so use lots of extra flour to prevent sticking. Your aiming for about a 5 mm thickness.
Pour the pie filling into the centre of the round and fold the edges on top.
Bake the pie for 35 minutes or until cooked and golden. Top with some baby spinach and rocket. That's it, you're done!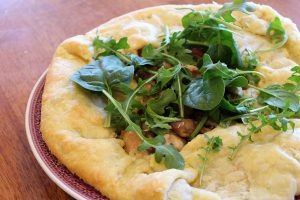 Difficulty: Easy peasy