Hello hungry peoples,
Today's recipe comes from one of my dear friends Dr Nat. No she is not a medical doctor but she worked bloody hard for her PHD so I feel like I should use the moniker at every opportunity. Nat and I bonded at university on a particularly horrible geology field mapping course. Nothing like going through hell to bring people together. I ended up so sleep deprived at the end that I was hallucinating. Natalie could barely walk because her ankle had tripled in size. It was worth it though because we found each other and she is a super awesome person. This is  recipe that she shared with me years ago. It has been on a pretty regular rotation in my house ever since. It is easy to bring together and really delicious. Enjoy!
Basil Chicken Pasta
Prep time: 10 minutes
Cook time: 20 minutes
Total time: 30 minutes
Yield: 4 serves
Calories per serving: 730
Ingredients
250 g 

rigatoni or shell pasta

100 g 

fetta

1/4 cup 

kalamata olives

1/4 cup 

semi-sundried tomato

3 

chicken thighs

2 tbsp

dried basil or a handfull of fresh basil

2 tbsp

olive oil
Cooking Directions
Put your pasta in a pot of salted water on a medium heat.
Deseed the olives.
Dice your fetta and semi-sundried tomatoes.
Chop up your chicken thighs into chunks.
Fry the chicken with a couple tbsp of olive oil, turning often until golden. This will take about 10 minutes.
Add your tomatoes and olives and heat them up. If you are using dried basil also add it to the pan.
Drain your pasta once it is softened and cooked.
Add to the fry pan with the fetta.
Toss to mix and get the fetta melty.
Sprinkle some fresh basil on top and dig in.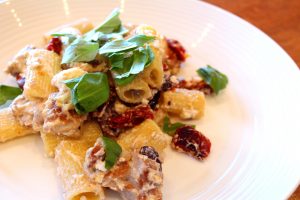 Difficulty: Easy peasy