Hello hungry peoples,
My hubby is travelling for work at the moment. You know what they say, 'While the cats away the mice will play'. By mice I mean my kids and I. By play I mean have breakfast for dinner. That is as mad and exciting as it gets people! When we are not having scrambled eggs, or pancakes, or eggs on pancakes….you get the idea…. and I am not completely zonked out, I make my Nanna's Tuna Mornay. There is so much in this dish that my hubby absolutely abhors; the mashed potato, the white sauce, the canned tuna. Seriously, who hates mashed potato?? I have given up making it when he is around because man oh man……so much whingeing!
If you love those things then this is the recipe for you. My Nanna is quite the cook and this is by far one of my favourites. It comprises a tuna and vegetable white sauce capped by mashed potatoes and melted cheese. Probably the trickiest bit is making the roux, which forms the white sauce. Roux is essentially fat and flour used to thicken sauces. The general rule is equal parts flour to fat. You also have to cook the flour and butter for a bit to make sure there are no floury lumps and to prevent a raw 'floury' taste to the sauce. The original recipe didn't have any vegetables in the sauce but I have kids that I am trying to get to maximum nutrition! There is no shame in using frozen veggies. The snap frozen nature of them means they are really good for you and they are so convenient.
Lastly, regarding the mashed potato, essentially the more butter you put in the potatoes the better the mash will taste. I once saw Heston Blumenthal put in an almost half to half ratio of potato to butter. He had no problem with it as long as you didn't eat it every day. He also put his potatoes through a fine sieve so it was super creamy and buttery. It looked lovely but super hassles. Putting heaps of butter in is easy though. I think I have raved on enough, lets get into it!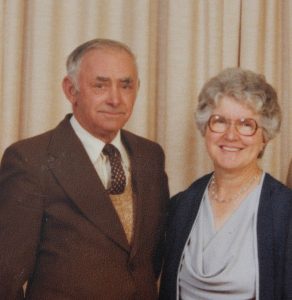 My Nanna's Tuna Mornay
Prep time: 20 minutes
Cook time: 40 minutes
Total time: 1 hour
Yield: 4 serves
Calories per serving: 356
Ingredients
4 large potatoes
425g can tuna chunks in spring water
1 cup frozen mixed vegetables
2 tbsp cornflour
2 tbsp butter
2 cups milk
3/4 cup grated cheese
Cooking Directions
Preheat your oven to 180 °C. The components are made on the stove top, with a final bake in the oven to melt the cheese and make it crispy on top.
Next we get the potatoes on for the mash. Peel your potatoes and chop into large chunks. Put in a pot of salted water and bring to the boil.
While your potatoes are cooking melt the 2 tbsp of butter in a saucepan. Add the two tbsp of cornflour and whisk together to form a roux. Sauce base complete!
Add 1/4 cup of the milk and use a whisk to get everything incorporated. Once it begins to thicken add some more of the milk and whisk again. The whisking is important as it stops the sauce getting lumpy and the bottom burning. Add the remaining milk, give it a good stir and wait for it to thicken, stirring occasionally. Once it has formed a lovely thick sauce, take it off the heat.
Open your can of tuna, drain off the water and add the tuna to your sauce. You may want to break up some of the bigger chunks. Also add your cup of vegetables. I tend to use diced carrots, peas and corn.
Hopefully by now your potatoes are cooked through. Mash them with a couple tbsps of butter and milk.
Put your white sauce in the bottom of a casserole dish. Top with mashed potato and then your cup of grated cheese. Bake in your hot oven for about 15 minutes. Your cheese should be melty, with a few crispy brown bits. That's it, your done!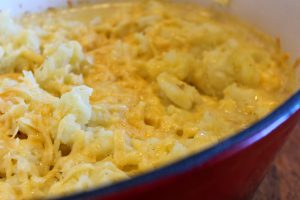 Difficulty: Medium