Hello hungry peoples,
This is a variation of an Empire or Belgium Biscuit which is popular in Europe. Jam, icing and shortbread….oh my! This is indeed one of my favourite things. Sadly the only way I can buy it commercially is to get the smiley face biscuits common in bakeries around Australia. These are sad affairs. Stale shortbread, with a paupers dab of jam and way too much icing that makes your teeth crack. Of course I am forced to make my own! Luckily shortbread is robust enough to freeze so you don't need to eat them all in one batch. I forgo the traditional preserved cherry on top because I think they are gross but if they float your boat go nuts!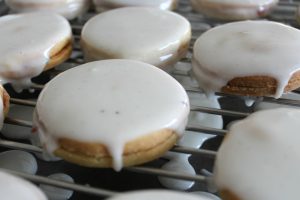 Empire Biscuits
Prep time: 10 minutes
Cook time: 15 minutes
Total time: 25 minutes
Yield: 12
Calories per serving: 644
Ingredients
2 cups 

plain flour

1/2 cup 

vanilla caster sugar

250 g 

chilled butter

2 tsp 

vanilla paste

1/2 cup 

raspberry/strawberry jam
Icing
4 cups (1 kg) 

icing sugar

1/2 cup 

milk
Tools: biscuit cutter
Cooking Directions
Preheat oven to 180 °C.
Put the chilled 250 g butter, 2 cups flour and 1/2 cup vanilla sugar in a food processor and run until incorporated. If you don't have vanilla sugar plain ol' castor sugar will work just fine. I just really love vanilla and like to boast the flavour where I can.
Knead the dough until it comes together and roll out to a 5 mm thickness. Use the biscuit cutter to cut rounds out. Continue until you have used all of the dough up.
Put the cut round onto a baking tray covered with baking paper and bake for 10-15 minutes (until cooked and golden). Allow to cool for 20 minutes.
Combine the 4 cups of icing sugar with 1/2 cup of milk. You can also add a little more vanilla paste.
Join the biscuits using some of the jam and dip the biscuits into the icing. Let the biscuits set and then dig in!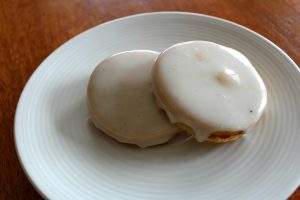 p.s. You can make your own vanilla sugar simply by placing a few vanilla beans in with a few cups of sugar.
Difficulty: Easy