Hello hungry peoples,
A pear and walnut salad with some stinky cheese is a classic salad. I love it so hard but like anything I cook I have to mess with it. I am not a huge fan of walnuts so decided to go with pecans. Why use nuts when you can use candied nuts??? Specifically maple syrup candied pecans. I also like to use Gorgonzola cheese as I love a stinky cheese but it can easily be replaced by something less obnoxious such as a Parmesan. The final flourish of some sticky balsamic vinegar is the perfect addition for this tasty salad.
Pear, Candied Pecan and Gorgonzola Salad
Prep time: 10 minutes
Cook time: 5 minutes
Total time: 15 minutes
Yield: 1 serve
Calories per serving: 1198

Ingredients
1 

pear

1/2 cup 

pecans

100 g  

gorgonzola

2 cups 

mixed green leaves

2 tbsp 

maple syrup

2 tbsp 

sticky balsamic dressing
Cooking Directions
Put the 2 tbsp of maple syrup in a saucepan on a medium heat.
When it starts to get hot and liquidy, add the 1/2 cup of pecans and give it a good stir.
Cook for another minute, stirring often to toast the pecans.
Finely slice 1 pear.
Place the two cups of mixed greens on a plate. Top with pear slices, the pecans, and the 100 g of Gorgonzola crumbled up.
Drizzle sticky balsamic on top and dig in.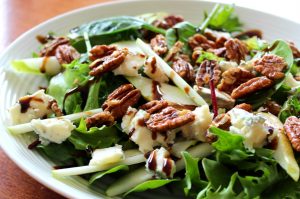 Difficulty: Easy peasy