Hello hungry peoples,
Hubby has been begging for me to make more stir frys so I have started working my way through some classic dishes, of which Beef and Black Bean fits in perfectly. The cooking technique to make a good stir fry requires a different skill set to making European dishes, thus the difficulty. Firstly you need to know your way around a wok. I am far from perfecting this but I have found a few tricks which increases my success rate.
The number one thing is heat. You want your wok super hot so that everything sizzles dangerously when you throw it in. The next thing is oil. Use a lot of it. If you skimp, your ingredients will stick to the wok and burn, adding a very unpleasant flavour to the proceedings.
The other important thing is when dealing with meat you need to build texture to produce mouth feel. Sounds gross I know but it is very important. I achieve this by "silvering" the meat. This is essentially a tenderising process using bicarbonate soda. Beef requires about 60 minutes, while chicken only needs 30 minutes. You don't want to go longer or you will end up with mush meat. I do not marinate my meat as I think this process is more important.
Once you rinse off the bicarb, dry the meat with paper towels. If the meat is too wet, it will not crisp up properly. By then coating the meat lightly in cornflour, you create a subtle batter layer which is fabulous. Lastly I always add some extra vegetables to my stir fry so it is more of a complete meal. Black beans can be purchased at any local Asian grocer and they keep pretty well in the freezer. Let's get into it!
Beef and Black Bean Stir Fry
Prep time: 60 minutes
Cook time: 15 minutes
Total time: 1 hour 15 minutes
Yield: 4 serves
Calories per serving: 452
Ingredients
500 g

beef rump steak

1 

capsicum

1 

carrot

4 

spring onions

2 tbsp 

salted black beans

2 tbsp 

cornflour

2 tbsp bicarbonate soda
Black bean sauce
4 tbsp

ketjap manis

2 tbsp 

sesame oil

2 tbsp 

oyster sauce

1 tbsp 

chinese cooking wine

1 tsp 

white pepper

1/2 tsp 

salt

2

garlic cloves

2 tbsp 

grated fresh ginger

1/2 cup 

beef stock

2 tbsp 

peanut oil

2 tbsp

bicarbonate soda
Cooking Directions
Slice your beef steak into thin strips across the grain. This helps to make the meat tender.
Coat the meat slices in the 2 tbsp of bicarbonate soda and let stand for an hour.
While the meat is tenderising, slice the capsicum, dice the spring onions and peel and slice the carrots.
Next we need to make the sauce. The key to good stir fry is to have everything ready to go before you start putting things in the wok. Combine the 4 tbs ketjap manis, 2 tbsp sesame oil, 1/2 teaspoon salt, 1 tsp white pepper, 2 garlic cloves, 2 tbsp grated ginger, 1/2 cup beef stock, 2 tbsp oyster sauce and 1 tbsp chinese cooking wine
Rinse the bicarbonate soda off the meat. Pat the meat dry with paper towels and coat lightly in cornflour.
Put your wok on high heat with the 2 tbsp of peanut oil (use more later if needed). Swirl the wok to coat it in oil. You know it will be hot enough when the oil starts smoking.
Add the meat and toss regularly, making sure you spread it out over the wok. If the meat gets too crowded it starts stewing. Keep tossing until the meat has browned and crisped up a bit.
Add your carrot and capsicum, plus the sauce and keep tossing everything around.
Lastly, just before serving add the spring onions.
Serve with rice. That's it, you're done!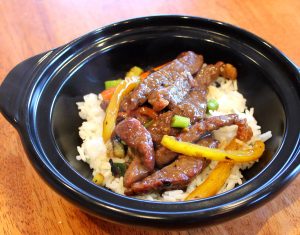 Difficulty: Medium