Hello hungry peoples,
The porridge obsession continues. This is an idea I got from "The Forage" markets in Canberra. If you haven't been you should it, it is foodie heaven. There are amazing food vans from home-made marshmallows and Italian doughnuts to authentic Peruvian cuisine and boutique wineries. It is also where I had chocolate porridge for the first time. To be honest the example I had wasn't that chocolately but it inserted an idea into my brainworms that would not go away. My version is super chocolately but doesn't actually use that much chocolate. That makes it healthy right????? Maybe not, but it is delicious. If you are impatient and want to speed up the cooking process, just soak your oats overnight.
Chocolate Porridge
Prep time: 5 minutes
Cook time: 10 minutes
Total time: 15 minutes
Yield: 4 serves
Calories per serving: 276

Ingredients
1 cup 

oats

1 cup 

milk

2 cups 

water

1 

banana

1/4 cup 

milk/dark chocolate chips

2 tbsp 

cocoa
Cooking Directions
Soak the oats in 1 cup milk and 2 cups of water with the 2 tbsp cocoa overnight (otherwise it will take about 15 minutes to cook on the day).
Put the porridge on a medium heat and cook until the oats have softened and become creamy.
Top with sliced banana and chocolate chips. That's it, you're done!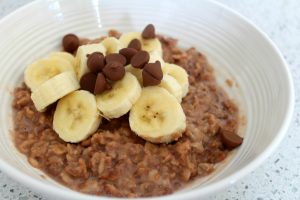 Difficulty: easy peasy