Hello hungry peoples,
This is one of my all time favourite salads. Chicken and avocado…….they are meant to be and throw in some haloumi as well and…oh..my…god! It is just gosh darn delicious. Let's get into it!
Warm Chicken Salad
Prep time: 5 minutes
Cook time: 20 minutes
Total time: 25 minutes
Yield: 4 serves
Calories per serving: 541

Ingredients
500 g 

chicken thighs

150 g (1 bag)

baby spinach

1 

avocado

180 g (1 block)

haloumi

1/2 cup 

mung bean sprouts

1 tbsp

dried basil

2 tbsp 

olive oil

1 clove 

garlic

1/4 cup 

Kewpie mayonnaise

Salt
Pepper
Cooking Directions
Combine the olive oil, a crushed garlic clove and a tablespoon of dried basil.
Put a grill or frying pan on a medium heat with a bit of olive oil.
Put the chicken on the grill and baste the chicken in the olive oil, garlic and basil as it cooks.
Slice the haloumi so it is ready to add to the pan when you turn the chicken.
Plate the salad leaves.
Slice the avocado and add it to the plate.
Sprinkle on mung beans.
Once the chicken is cooked on one side, turn it.
Add the haloumi to the pan. Keep and eye on it as it will cook quickly. Once golden turn. By the time the haloumi is cooked the chicken should be done as well.
Slice the chicken and add it and the haloumi to the salad.
Drizzle some kewpie mayonnaise on top and that's it, you're done!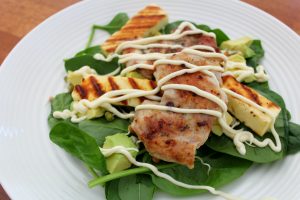 Difficulty: Easy peasy