Hello hungry peoples,
I love a good quiche and since my husband is so anti-egg I have to work on my quiche recipes under cover of darkness…..or you know…when no-one else is around/hungry. Spinach and goats cheese quiche is my all time favourite quiche flavour. I always have a jar of Meredith's Goats Cheese in my fridge for cheese emergencies. The oil preserves the cheese but is also handy for dressing salads and frying things. I like to encase my quiche in a sour cream pastry. I know it sounds like a weird concept but it makes the most golden and crispiest pastry case ever with the bonus of being super easy to make. It's addition makes this one amazing meal. Let's get into it!
Spinach and Goats Cheese Quiche
Prep time: 20 minutes
Cook time: 45 minutes
Total time: 1 hour 5 minutes
Yield: 1 large quiche
Calories per serving: 494
Ingredients
1 cup 

milk

1 cup

cream

5

eggs

80 g goats cheese

2 cups baby spinach

1 tsp 

salt

1 tsp 

pepper
Pastry
1 cup 

plain flour

125 g 

butter

1/2 cup 

sour cream
Cooking Directions
Preheat your oven to 180°C.
First we make the sour cream dough. Put the 1/2 cup of sour cream, 1 cup of flour and 125 g of butter into a food processor. Run the food processor until it comes together as a dough. It will be a bit sticky but just use a bit more flour while working with it.
Roll out to 0.5 cm thickness into a circle.
Grease a cake pan and line with baking paper.
Add the pastry, lining the tin.
Combine the 5 eggs, 1 cup of cream and 1 cup of milk. Break the goats cheese into chunks and add to the mix. Lastly stir through the two cups of baby spinach
Pour the mixture into the pastry mold and bake for 45 minutes.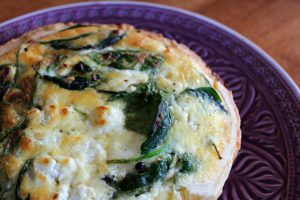 Difficulty: Easy peasy
p.s. Any extra pastry can be frozen for later use.