Hello hungry peoples,
I have been working on these lamb and haloumi kebabs for ages. I kept finding that the sugar in the marinade would burn on the kebabs before they would cook. The struggle is real man! The trick is to baste the kebabs after they have cooked a bit. Lamb leg is the best for kebabs but it is a huge hassle to cut into cubes. Let's get into it!
Lamb and Haloumi Kebabs
Prep time:
10 minutes
Cook time:
20 minutes
Total time:
30 minutes
Yield:
4 serves
Calories per serving:

831
Ingredients
500 g 

lamb rump steak

250 g

haloumi

50 g

butter

1 tsp 

oregano

1 tsp 

honey

1 

garlic clove
Cous cous
1 cup 

cous cous

1 cup 

chicken stock

1/4 cup 

shelled pistachios

1/4 cup 

fresh parsley

1 tsp 

salt

1 tsp 

pepper
Cooking Directions
Dice the lamb steak and haloumi into similarly sized cubes. This helps them to cook evenly.
Skewer the cubes, alternating meat and cheese.
Melt the 50g of butter in the microwave with the 1 tsp oregano, 1 tsp of honey, salt and pepper.
Put the kebabs onto a grill on medium heat, turning often and basting once they are starting to look cooked.
While the kebabs are cooking, make the cous cous. Add two cups of hot chicken stock to the 1 cup of cous cous. Let it sit for 5 minutes and then fluff up with a fork.
Add the parsley and pistachios, season and mix well. A little butter at this stage can also be a good thing.
Serve everything up together. That's it, you're done!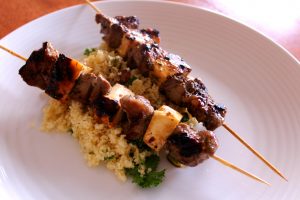 Difficulty: Easy peasy