Hello hungry peoples,
So I have been super slack over the holidays and hopefully you have been too. Time to get back on the donkey and ride it out of town. I am pretty sure that is not a saying in any way, shape or form but lets run with it. Cut Head Pudding is a seriously old school dessert and a favourite of my father-in-laws who recently celebrated his birthday.  The sponge pudding is capped by a layer of jam, somewhat reminiscent of a decapitated head, thus the name. Ideally it is also served with some home-made custard, the recipe for which I will share next week. My Father-in-law is wheat intolerant so this is a version that uses wheat free flour, perfect for anyone with dietary intolerance. Ironically my Father-in-laws birthday is the same week as my mothers so I had recently made both a sugar free cheesecake, as well as this wheat free pudding. Definitely not my normal style but sometimes it is good to be pushed out of your comfort zone. If you are like me and can eat all the things, just use normal self-raising flour instead of the wheat free version.
This recipe originally comes from a book is called "Our Daily Dinner" and was given to my mother-in-laws mother by her mother in the early 1950s. It contains such delights as Ox Kidney Stew, Pig's Cheek and Tongue and Tripe in Batter and uses such terms as "cook over a slow fire". Like I said…..seriously old school.
Raspberry Sponge Pudding
Prep time: 30 minutes
Cook time: 1 hour 30 minutes
Total time: 2 hours
Yield: 6 serves
Calories per serving: 344
Ingredients
2 cup

self raising flour (normal or gluten free)

2 cup 

castor sugar

1/2 cup 

raspberry jam

100 g

butter plus extra for greasing

2 

egg

1 cup

milk

1 tsp 

vanilla paste
Cooking Directions
Let your butter and egg get to room temperature. This is baking 101.
Grease a pudding bowl with melted butter.
Place 1/2 cup of raspberry jam in the bottom of bowl.
Cream butter and sugar together until it lightens in colour.
Beat in 2 egg, 2 cup self-raising flour and 1 cup milk.
Pour mixture on top of the jam.
Cover with greased paper and foil (or a lid for the pudding dish).
Put in a large pot. Add water into the large pot until it is about half way up the pudding dish.
Bring to a rolling simmer and put the lid on the large saucepan.
Cook the pudding for 1 1/2 hours, checking the water levels often.
Once ready, turn the pudding out onto a plate and serve with ice cream or custard. That's it, you're done!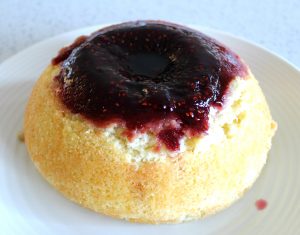 p.s. Apparently the "Cut Head" name is not common usage but a bad family joke. Hubbies's Dad used to call it that to annoy his Mum.
Difficulty: Easy peasy