Hello hungry peoples,
Following on from last week, this is a recipe for an easy yet refined home-made custard to go with your Cut Head Sponge Pudding. I believe a good custard recipe is one of life's essentials. I like to use a mix of cream and milk to make it decadent but not overwhelming. The use of cornflour also guarantees that your custard will be lovely and thick. At Christmas I also add a bit of brandy to go with the Xmas pudding. It can also make the most amazing vanilla slice (coming next week!). The secret to a good custard is lots of love and care (e.g. stirring) to prevent the dreaded lumpy scrambled egg custard. I am on principle against straining anything from custards to gravies. It is much preferable to get it right the first time than to try to save something that is substandard. Let's get into it!
Vanilla Custard
Prep time: 10 minutes
Cook time: 20 minutes
Total time: 30 minutes
Yield: 8 serves
Calories per serving: 409
Ingredients
400 ml cream

400 ml milk

1/2 cup castor sugar

6 egg yolks
50g butter
1/3 cup cornflour
2 tsp vanilla paste
Cooking Directions
Melt the 50 g butter in a medium  saucepan. Add the 1/3 cup cornflour and whisk into a white paste. Cook slightly.
Add cream, milk and sugar and heat until the sugar has dissolved but not to boiling point. Stir often (this helps to prevent lumps).
Add the six egg yolks and continue regularly whisking. Try to do this quickly so you don't end up with chunks of scrambled egg in your custard (ergh).
 Once the custard is thick, take off the heat and add 2 tsp of vanilla paste. That's it, you're done!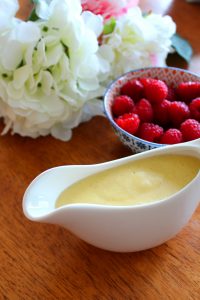 Difficulty: Easy peasy