Hello hungry peoples,
Since I have been playing around with making custard it seems fitting to make a classic custard dish – a vanilla slice. I have been working on my recipe in the hopes of winning a personalised 1 kg tub of  Vanilla Bean Paste. Hmmmmm….so much vanilla paste, soooo much baking. The winner hasn't been announced yet so hopefully I am in with a shot. In regards to vanilla slice making your own custard is essential. I also like to use filo pastry, which while unconventional, creates a perfectly flaky crust. Lastly top it all off with raspberries. Lets get into it!
Vanilla Slice
Prep time: 20 minutes
Cook time: 20 minutes
Chill time: 2 hours
Total time: 2 hours 40 minutes
Yield: 8 serves
Calories per serving: 569
Ingredients
400 ml cream

400 ml milk

1/2 cup castor sugar

6 egg yolks
50 g butter
1/3 cup cornflour
2 tsp vanilla paste
375 g filo pastry
2 punnets raspberries
Icing sugar to dust
Tools: Baking pans and a large casserole dish (20 by 30 cm)
Cooking Directions
Preheat the oven to 180 °C. First we will make the custard so it can cool while the pastry cooks. Melt the 50 g butter in a medium  saucepan. Add the 1/3 cup cornflour and whisk into a white paste. Cook slightly.
Add cream, milk and sugar and heat until the sugar has dissolved but not to boiling point. Stir often to prevent lumps.
Add the six egg yolks quickly and continue regularly whisking.
 Once the custard is thick, take off the heat and add 2 tsp of vanilla paste. Set the custard aside and let it cool.
Split the filo pastry in half. On a baking tray lined with baking paper, lay half the filo, brushing with butter every second sheet. Top with baking paper. Layer the next half, again buttering every second sheet. Top with baking paper, another baking pan and a dish to weigh the pastry down. Bake for 15-20 minutes until golden.
Put a layer of baking paper onto the base of your casserole dish. Lay the first set of filo sheets into the dish. Pour the custard on top and than place the second lot of filo sheets. Chill for two hours.
Top with raspberries and dust with icing sugar to serve. That's it, you're done!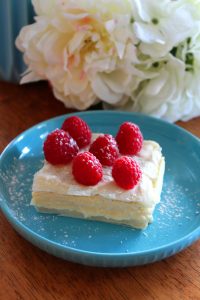 Difficulty: Easy peasy