Hello hungry peoples,
Brisket is not a big thing in Australia but it should be because it is amazing! The Americans have been all over this for years, especially among Jewish mothers who are particularly skilled at slow cooking it to deliciousness. I have long lamented the lack of this cut in supermarkets and butchers. You can get it delivered from  Jordos Chop shop if you are having a brisket emergency (yes….I have had such an emergency) but I am now ecstatic to inform you that you can get brisket from ALDI. On the down side I will probably be eating it every week now and will become the size of a small house. Once you have a brisket the best thing to do is cook it at a low temperature in stock for hours to create beautifully braised meat. In regards to stock I am a convert to using gel stock cubes, which are far superior, but you can just use regular stock. You can serve this with all kinds of things but the easiest is to serve it as a burger. Let's get into it!
Braised Brisket Burgers
Prep time: 10 minutes
Cook time: 4 hours
Total time: 4 hours and 10 minutes
Yield: 8 serves
Calories per serving: 275
Ingredients
1 kg beef brisket

2 onions

1/2 cup bbq sauce

1/4 cup bourbon
2 beef stock gel cubes
2 cups water
Cooking Directions
Turn your oven onto 100°C to prepare it for slow cooking
Combine the ingredients into a cast iron pot or casserole dish, put the lid on and put it in the oven. Check it often to make sure it doesn't run out of liquid but it is unlikely to dry out at this temperature.
After 4 hours of cooking the meat should be fall apart tender. Serve with some of the onions and green leaves on a soft burger bun. That's it, you're done!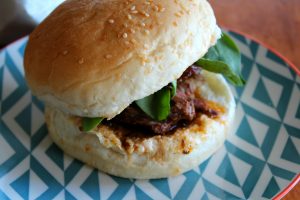 Difficulty: Easy peasy