Hello hungry peoples,
I have been super slack with posting but I have a valid excuse. I had my eyes zapped and ironically to become not blind you become even more blind for awhile. It turns out being really blind is super dooper boring and I am pensively waiting for everything to heal so I can leave my house and be a fully functioning human being. I am sure I am being unbearable to live with at the moment.
Today I complete one of my sushi goals. When I visit a sushi joint one of my favourites is the cooked tuna roll and to be honest  I was pleasantly surprised by how easy it is. Essentially as long as you season the rice properly all you  have to do is use some mayonnaise with the tuna and that's it, you are all good. Let's get into it!
Cooked Tuna Sushi Roll
Prep time: 10 minutes
Cook time: 15 minutes
Total time: 25 minutes
Yield: Serves 8
Calories per serving: 551
Ingredients
325 g tuna in oil
3 cups sushi rice
1/2 cup Kewpie mayonnaise
1/2 cup rice vinegar
2 tbsp sugar
2 tsp salt
Handful green salad leaves
3 yaki nori seaweed sheets
Tools: Bamboo mat
Cooking Directions
First we need to cook the rice as this will take the longest. Put the sushi rice into a small pot and fill with water to an inch above the rice. Put the pot on a high heat and leave until heat funnels form in the water and rice. Put a lid on the pot and turn it down to low heat. It now cooks for around 10-15 mins.
While the rice is cooking we prepare the tuna. Open the tin of tuna and drain the oil off. Use a fork to break the large tuna chunks up and combine with 1/2 cup kewpie mayonnaise. This bit is really down to taste so use the amount of mayonnaise that tastes right for you.
Once the rice is cooked combine it with the seasoning of 1/2 cup rice vinegar, 2 tbsp of sugar and 2 tsp of salt.
Lay your bamboo mat out and place a sheet of seaweed, rough side up.
Cover with a 0.5 cm layer of rice, leaving the top 1 inch of the seaweed sheet free. Wet hands will help prevent sticking.
Place a line of filling on the rice along the base.
Start rolling the sushi from the bottom, using the bamboo sheet to guide the seaweed sheet. Use a little bit of pressure to roll it tightly. That's it, you are done!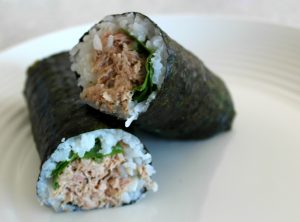 Difficulty: Medium