Hello hungry peoples,
This has been a full on week. Not only am I still partially blind from being lasered but my furbaby had a massive heart attack. Riley is a cavoodle cross, which means she is an adorable little muppet who loves people. The poodle bit also means she is bat shit crazy. She was my first grown up pet and she endured my testing whether I had the capability to keep another thing alive before I tried it with kids. Thankfully we have remained successful. We got her to the vet in time and we then simply had to keep throwing money into the abyss until she was no longer critical.  She came home yesterday a much thinner and exhausted dog, with a mountain of medication but everyone was glad to see her fuzzy face.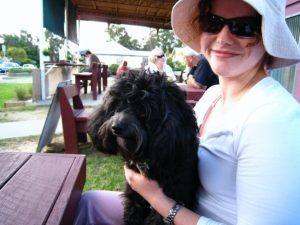 Moving onto food matters I have always been obsessed with pies topped by mashed potato. It was a weekly tradition when we went to the footie on Saturdays. In regional Australia that is just what you do. It is THE social event for the entire town. The kids that were not playing would spend the time shoving pies and redskins into their gullets as fast as possible. If I was feeling like being productive I would sit on the scoreboard. To be honest I don't even know what kind of football they were playing…… Aussies rules maybe? Which means I must have been the worst score keeper ever. I still don't know the rules properly.  Anyway I digress, these individual pies are perfect for kiddies and a great way of sneaking some vegetables into their diet. Get it into you!
Lamb Cottage Pies
Prep time: 10 minutes
Cook time: 50 minutes
Total time: 60 minutes
Yield: 8 pies
Calories per serving: 410
Ingredients
500g 

lamb mince

2 

carrots

2 

garlic cloves

1

brown onion

1/2 cup

frozen peas

4

large potatoes

2 sheets

shortcrust

1/2 cup

grated cheddar

2 cups

beef stock

1/4 cup 

Worcestershire sauce

1/4 cup

milk

2 tbsp 

plain flour

1 tsp 

salt

1 tsp 

pepper

2 tbsp 

olive oil
Cooking Directions
Preheat oven 180 °C.
Take the shortcrust pastry out of the freezer to defrost.
Peel the potato, chop into large chunks and cook in a pot of salted water.
While the potato is cooking dice the carrots, onion and garlic and brown in a pan with a little olive oil on a medium heat.
Add the lamb mince and brown.
Add 2 tbsp flour and mix in to prevent lumps. The flour helps to form a gravy.
Add the 1/4 cup of Worcestershire sauce.
Add two cups of beef stock and simmer away until the stock thickens.
The potatoes should be cooked now. Once they are soft, drain the water, add 1/4 cup cream and a generous amount of salt and pepper. Use a potato masher to puree the potato.
Grease a pie dish, quarter the the shortcrust sheets and place 1/4 in each depression. This will give you eight pies.
Split the filling up between the eight pies, top with the mashed potato and lots of cheese.
Bake for about 20 minutes, until golden and the pastry is cooked. That's it, you're done!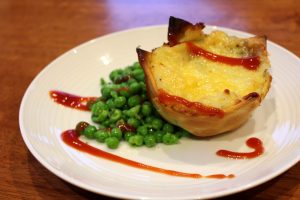 Difficulty: Medium