Hello hungry peoples,
Exciting food news people. I'll be sitting on the Urban Providore tasting panel once a month for the next year. There will be so much content coming your way and hopefully lots of tasty suggestions to add to your table. Luckily they have a great online store so even if your not in Canberra you can sample their wares.
On to recipe time, this is a mildly flavoured stir fry that anyone can enjoy and a classic on my list of stir fries to conquer. The use of nuts in Asian cooking is a very good thing in my mind, and surely it makes them a bit healthier. I try to not deep fry my stir fry, instead I use a light coating of cornflour and a liberal use of oil in the wok to create a fried effect and texture. Trust me….it is amazing. This stir fry is also perfect for the kiddles. Let's get into it!
Chicken Cashew Stir Fry
Prep time: 30 minutes
Cook time: 15 minutes
Total time: 45 minutes
Yield: Serves 4
Calories per serving: 277
Ingredients
500 g 

chicken thighs

450 g Singapore noodles

1 

carrot

1 bunch 

gailan

1/2 head broccoli

1/2 cup 

oyster sauce

1/2 cup salted roasted 

cashews

1/4 cup 

sesame oil

1/4 cup 

cornflour

2 tbsp 

bicarbonate soda
Cooking Directions
Dice the chicken and lightly coat in the 2 tbsp of bicarbonate soda. Let it sit for at least 20 minutes. This tenderises the meat, as well as increasing mouth feel.
Dice the vegetables so they are ready to go. Wokening is a fast process so having everything ready to go is important.
Boil some water and soak the noodles. This makes it easier to bring everything together at the end.
Rinse the bicarbonate soda off the chicken, pat it dry to remove some of the excess moisture and then coat in the 1/4 cup of cornflour. This dries the meat for frying while creating a light batter to again improve the mouth feel (mouth feel is important people!)
Put a wok on high heat. Add the 1/4 cup of sesame oil. Once it is hot add the chicken and toss regularly. Once the chicken is browned, add the vegetables and toss for a few minutes. Add the oyster sauce and more sesame oil if needed. Add noddles and toss everything for a couple minutes. Top with the nuts. That's it, you're done!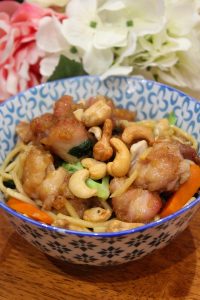 Difficulty: Easy peasy