Hello hungry peoples,
I recently cleared my garage out and went to Trash and Treasure to get rid of all my excess junk. Sadly I think the markets have become the victim of our cheap and cheerful culture. Who wants to buy second hand when you can get new for ridiculously cheap? While it wasn't a monetary win there was a chestnut guy and a fancy sausage guy. I haven't thoroughly explored chestnuts before but I occasionally see them on menus as a soup with some crispy sausage bits so I thought it was a good place to start. I am not going to lie, fresh chestnuts are a pain in the bum! I soaked mine and then scourged them with crosses before roasting them. It is hard but cut the crosses as big and deep as possible as it makes them roast quickly and peeling a heck of a lot easier as they open up. Just to make it a bit harder, you have to peel them while hot. I wore my dishwashing gloves and went to town. It took forever but the result was delicious! Let's get into it!
Chestnut and Italian Sausage Soup
Prep time: 25 minutes
Cook time: 40 minutes
Total time: 65 minutes
Yield: Serves 4
Calories per serving: 788
Ingredients
1 kg chestnuts

1 large Italian sausage
2 sticks celery
1 leek
1/2 cup cream
50 g butter
4 cups chicken stock

1 tbsp salt

1 tbsp pepper
Cooking Directions
Soak the chestnuts for 25 minutes in water.
Preheat the oven to 220 °C. Scour the chestnuts with crosses and roast for about 20 minutes. The chestnuts "open up" like a flower when they are ready for peeling.
Put on some thick rubber gloves and peel the chestnuts. Persist…….it will be worth it!
Slice the leek and celery and fry them in the 50 g of butter.
Add the chestnuts, chicken stock, salt and pepper. Bring to a simmer and let the flavours develop a bit.
Slice the sausage and brown in a pan. Set aside.
Use a stick blender to blend the soup. If you like a smoother texture use a proper blender. Stir the half a cup of cream. Serve with the sausage sprinkled on top!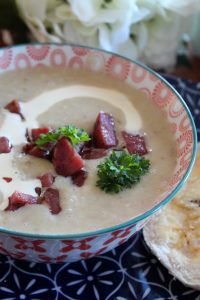 Difficulty: Medium (chestnuts are the worst!)