Hello hungry peoples,
I love Crepes Suzette but by the time I have made crepes and cooked the sauce it is mid afternoon and I have died of hunger and exhaustion. This is my quick and easy alternative, which still gives the you same orange liqueur tastiness but with much less hassle.  You can also use other liqueurs to flavour these. I imagine many of the citrus varieties or even nuts such as hazelnut would also make for one tasty breakfast. Let's get into it!
French Toast Suzette
Prep time: 5 minutes
Cook time: 10 minutes
Total time: 15 minutes
Yield: 2 serves
Calories per serving: 436
Ingredients
2 eggs
1/2 cup milk
4 slices of bread
2 tbsp Grand Marnier
2 tbsp sugar
1 tsp vanilla paste
2 tbsp butter
To serve: Icing sugar and maple syrup
Cooking Directions
Combine the 2 eggs, 1/2 cup milk, 2 tbsp grand marnier, 2 tbsp sugar and 1 tsp of vanilla paste in a bowl and whisk together.
Put a fry pan on a medium heat with the 2 tbsp of butter. Dip two slices of bread into the egg mixture and fry until golden on both sides. Repeat with the remaining two slices.
Dust with some icing sugar and serve with maple syrup. That's it, you're done!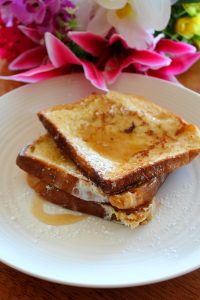 Difficulty: Easy peasy