Hello hungry peoples,
One of the best things about being on a tasting panel is getting to do some crazy great food related things.  Thanks to Urban Providore and the Lake George Winery I got to taste test a new menu and have input into such things like food and wine pairings, price points and refining dishes. I was born for this job and it is all kinds of exciting.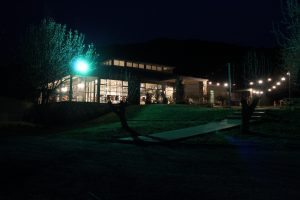 Planted in 1972, the winery has hosted some truly remarkable wine makers, including the noted Nick O'leary, who will still be having some input in future. If you ask nicely you can see the dust covered bottles in the basement just waiting for a true wine connoisseur, or someone with a lot of money to burn.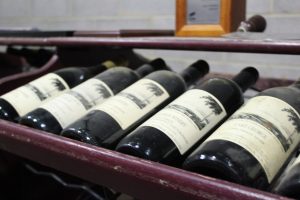 The winery has recently changed hands and is now a family affair for Sarah and Anthony McDougall. They are experienced wine makers, having run the Summerhill Road winery outside of Bywong for a number of years with their two young children. I can speak from experience that their sparkling wine is perfect for any occasion and the desert wine, described as peeled green apples, is one of the best I have ever sampled. You can grab a few bottles at Lake George if your curiosity is piqued!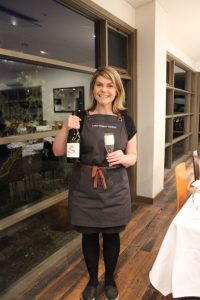 Local chef Matt Morrissey is running the restaurant with his wife; a fulfillment of a life-long dream. He also writes children's books about cooking that include recipes in the back for some quality family time!  He and the McDougalls are working on building an exciting casual menu in the restaurant to showcase both local wines and produce. On the day I visited, I had the important job of testing their menu with a tasting panel from Urban Providore. Part of our job was to pair the dishes, choosing from the extensive wine menu.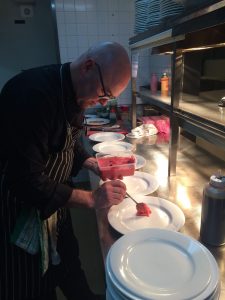 We had a lot to pick from as the winery produces a lot of varieties including Riesling, Pinot Gris, Chardonnay, Shiraz, Tempranillo, Pinot Noir and Rosé. We started with breakfast, sampling a perfectly poached egg on top of field mushrooms, sourdough, greens, beetroot hummus and balsamic glaze. I am not sure I would start with wine first thing in the morning but since this was technically dinner for me I thought it would go best with a light white such as the Pinot Gris.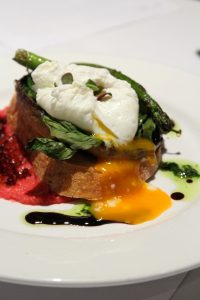 Next we sampled an entree of smoked duck breast with beetroot, roquette, goats cheese and pine nuts with a balsamic glaze. These are all my favourite flavour combinations and I thought it went down very nicely with the Rosé. The next entree were some perfectly cooked garlic prawns served with an avocado and tomato salsa, lime gel and salad. Very light and a good pairing for the Reisling.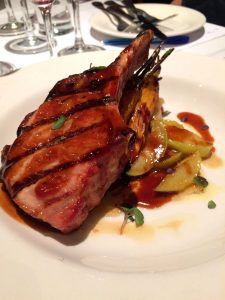 The mains were equally decadent. Crispy Skin Salmon with cauliflower puree, greens and lemon beurre blanc worked really well with all of the white wines, even with the Pinot Noir. My favourite of the night was a generous pork cutlet sitting atop caramelised onion mash, roasted apple and baby carrots and apple jus. The meat was perfectly seared, the mash was full of flavour and the gravy was divine. I think this dish could take a punchier wine such as the Temparillo or the Shiraz.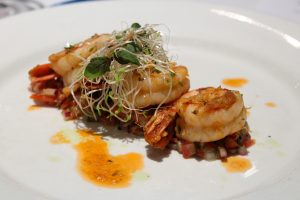 This was all finished off with a perfectly balanced Mango and Coconut Panna Cotta with pistachio crumb, passionfruit coulis and toasted coconut. I find these can be too sweet and too coconut-y but this was perfection in a glass jar. You also can't go past the Summerhill Road "Wild White' dessert wine to really top it off.  Lastly we finished off with a cheese board with nuts, olives and sundried tomatoes, which at this point was a bit extraneous and really challenged my waistline but I appreciate a proper finish to a meal and the French would certainly approve.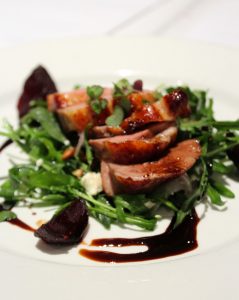 At this point I waddled home. Hopefully we did some good work and you too will be able to enjoy the fruits of our labour! My only regret that I only bought one bottle of each wine. Be smarter than me and buy many bottles of wine!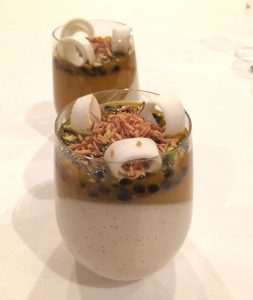 Karen dined at the invitation of Lake George Winery and Urban Providore. All opinions stated are her own