Hello hungry peoples,
I have been super slack with posting for a variety of reasons but mostly cause I am tired people…..TIIIIIIRED! Is this year over already? Sadly Hubby has been diagnosed with diabetes, something which I may be partly responsible for. I am a feeder people!
Finding low blood sugar and calorie recipes is not really my style but there will be some coming because essentially that is my life now. It couldn't hurt me to lose a few kilos either but the kids negate going for low fat options so it is quite the challenge.
This soup is perfect for me when I am in a tired stupor and it gets extra points for not killing hubby. It is my mothers recipe and while she wasn't really big on cooking this is a good dish that ticks a lot of boxes. It is easy, it is cheap, it is delicious and it is good for you.  I add a toasted cheese sandwich for the kids to dip in to make it a little more substantial for their growing bodies. You can also add a single ice cube before serving to prevent child burnination. Let's get into it!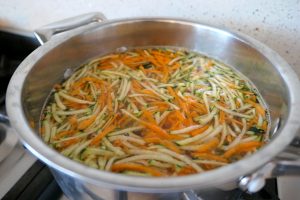 Zucchini and Lentil Soup
Prep time: 10 minutes
Cook time: 20 minutes
Total time: 30 minutes
Yield: Serves 4
Calories per serving: 179
Ingredients
4 grated carrots

2-4 grated zucchinis

400 g canned lentils/ 1/2 cup dry lentils

4 cups chicken broth

Salt and pepper (to taste)
 Cooking Directions
Grate the carrots and zucchini. The amount doesn't matter too much. For those gardeners out there it is also one of the easiest ways of getting rid of the giant zucchinis you sometimes end up with. Just work with what you have. I use a food processor to make everything super quick.
Combine the vegetables, stock and lentils in a pot and cook on a medium heat for about 20 minutes. If you use dry lentils I recommend cooking the soup a bit longer until the lentils are soft. Season with salt and pepper. That's it, you're done!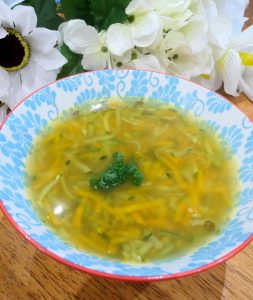 Difficulty: Easy peasy
p.s. If you are not being super strict with your diet one of the tricks with vegetables soups to make them extra delicious is to add a generous amount of butter. I leave it to your discretion.