Hello hungry peoples,
This dish is super simple but also super tasty. Lentils and rice is a classic Egyptian street food dish that I have completely misappropriated. I am pretty sure the original didn't have lamb chops, but hey, I am an Aussie and lamb chops are pretty Aussie. Plus it rounds it out into a completely satisfying dish if you are a meat lover. I guess if you are vegetarian you could go traditional and omit the chops. I also use a lot of ghee in this dish, which is also not traditional, but I love how ghee is essentially cooking with butter without the threat of burnination. You can use it with all kinds of things, not just Indian dishes. I use it to particularly good effect here to slowly brown the onions, which is the main flavour component for the lentil rice. In Egypt the onions are cooked until they are really dark but I prefer to go for a light caramelisation so they are sweeter rather than bitter. Let's get into it!
Lamb Chops with Eqyptian Lentil Rice
Prep time: 10 minutes
Cook time: 40 minutes
Total time: 50 minutes
Yield: 4 serves
Calories per serving: 1049
Ingredients
1 kg lamb chops

400 g (1 can) lentils
1 cup rice
2 onions
1/2 cup ghee
1 tbsp cumin
1 tbsp garlic powder
1 tbsp onion powder
1 tsp cinnamon
1 tbsp cumin
2 tbsp fresh parsley
Cooking Directions
Preheat the oven to 220 °C.
Melt 1/4 cup ghee and put it in a baking pan. Put the lamb chops in, turning them over so they are coated. Sprinkle some onion and garlic powder on the chops, as well as salt and pepper. Seasoning is important in this dish because it is quite simple.
Put the chops in the oven and bake for 30-40 minutes (depending on how well done you like them).
Put the rice, lentils, cumin and cinnamon into a saucepan with a cup of water on high until funnels form. Cover, put on low and cook for 20 minutes.
Peel and slice the two onions and fry in a 1/4 cup of ghee on a low heat until translucent and caramelised.
 Serve the rice and lentil mix with the lamb chops and top with parsley and onion. That's it, you're done!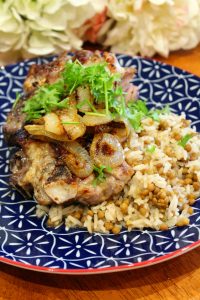 Difficulty: Easy peasy