Hello hungry peoples,
We are back at that time of year people….How did this happen? Why did this happen? I'm not ready…. Why….oh…why. Oh the humanity! As you can tell I am neither mentally or physically prepared. To help you with your preparations I am giving you a Christmas treat I am going to give you a recipe that is perfect to take along to any Xmas themed event you find yourself at. I am strongly of the opinion that whenever you show up somewhere you should bring something and this is the perfect transportable Xmas goodie.
The inspiration comes from Pud Balls, which are sold at the Urban Providore. Good pudding is an expensive affair and the range at Urban Providore includes three different kinds of amazing puddings covered in three kinds of chocolate. If you are feeling lazy I recommend you buy some but if you are feeling energetic read on.
Puddings balls are actually super easy to make, especially if you cheat and buy the pudding before hand. I like this option because you can buy some pretty cheap puddings and it also allows you to play around with differently flavoured puddings and chocolate for something a bit fancy. That being said I went with the cheapest pudding I could get at ALDI (around the $4) and with a little brandy added to the affair it was amazing. Let's get into it!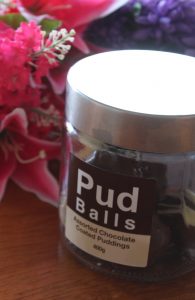 Plum Pudding Bites
Prep time: 15 minutes
Cook time: 0 minutes
Total time: 15 minutes
Yield: 16 balls
Calories per serving: 212

Ingredients
700 g

 plum pudding

2 tbsp brandy

1 1/2 cup dark cooking chocolate

1/4 cup white chocolate
Cooking Directions
Put the pudding into a food processor with 2 tbsp brandy and break it up into crumbs.
Roll the mixture into squash sized balls.
Microwave the dark chocolate 30 seconds at a time until fully melted. It will take about 1 1/2 minutes all up.
Cover a baking pan with baking paper. Dip the balls into the chocolate. Roll to coat and then extract. You can do this with toothpicks or spoons if you are clumsy like me. It will be a bit messy so keep the bowl near the baking pan.
Melt the 1/4 cup of white chocolate in a the microwave and using a spoon drizzle across the balls.
Leave everything to set or if you are in a rush shove them in the fridge for a bit. That's it, you're done.  Merry Xmas!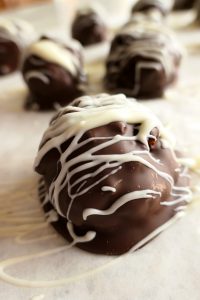 Difficulty: Super easy peasy