Hello hungry peoples,
Sophie, my drinks taster, suggested that this needed to be on my list. Espresso martinis are pretty straight forward; a shot of coffee, a shot of vodka and that's it! I have upped the ante by adding a shot of Baileys Irish Cream and topping it with a bit of milk, making for the most delicious iced coffee you will ever have. Careful though, this is a strong one!
Baileys Coffee Martini
Prep time: 5 minutes
Cook time: 0 minutes
Total time: 5 minutes
Yield: 1 drink
Calories per serving: 179
Ingredients
1 shot chilled espresso

1 shot Baileys Irish Cream
1 shot vodka
Splash of milk
Ice cubes
Tools: Cocktail shaker
Cooking Directions
Combine ingredients into a cocktail shaker.
Pour into a martini glass, using the cocktail shaker filter to keep the ice out. That's it, you're done!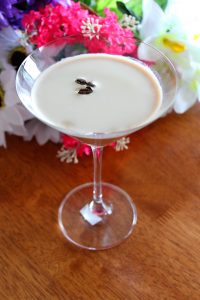 Difficulty: Easy peasy