Hello hungry peoples,
I love a good corn bread, especially when it is served with some indulgent food like slow cooked ribs. At their worst corn bread can be stale and dry but the use of creamed corn in this recipe keeps everything moist and delicious. It does help to let the mixture sit for a few hours so the polenta softens. Lets get into it!
Cornbread
Prep time: 10 minutes
Cook time: 15 minutes
Total time: 25 minutes
Yield: 18 muffins
Calories per serving: 166

Ingredients
1 cup

polenta

1 cup

self-raising flour

1 egg

410 g (1 can) 

creamed corn

150 g 

butter

1 1/2 cups 

buttermilk (or milk with 1 tbsp lemon juice)

1 tbsp salt
Cooking Directions
Preheat oven to 200 °C.
Combine the 1 cup of polenta with 1 cup self-raising flour.
In another bowl whip the eggs and melted butter together until slightly fluffy.
Add the 1 1/2 cups of buttermilk and creamed corn and mix.
Combine the wet and dry ingredients.
Grease a muffin pan with melted butted and place about 1/2 cup of mixture into each hole.
Bake for 15 minutes. Serve with lots of butter. That's it, you're done!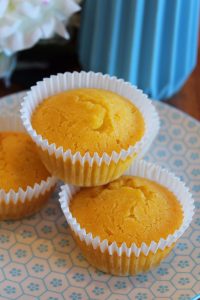 Difficulty: Easy