Hello hungry peoples,
This cocktail is inspired by one I enjoyed on a comedy cruise out of Sydney. I have long sworn off boats, after I used to get paid to work on them. The concept of paying someone else for the privilidge of extreme motion sickness seems insane to me. I thought I would literally test the waters by sailing out of Sydney for three days. I can handle three days, even if it turns into a vomitous extravaganza! It turned out that there was not a single wave and I was more in danger of extreme over indulgence.
This cocktail is great in that it is super easy to make. It doesn't require a sugar syrup like most cocktails, and it is dangerously non-alcoholic tasting. Trust me though…… it is there and you will get kablammo-ed if you over do it. It is even low calorie. More by accident than intent like most of the things I make. Let's get into it!
Ginger Mohito
Prep time: 5 minutes
Cook time: 0 minutes
Total time: 5 minutes
Yield: 1
Calories per serving: 192
Ingredients
10 mint leaves

1 lime
1 shot white rum (bacardi)
1 cup alcoholic ginger beer
Ice cubes
Tools: Cocktail shaker
Cooking Directions
Place the 10 mint leaves into the bottom of the cocktail shaker and muddle it/squash it a bit.
Slice the lime, squeeze each quarter into a cocktail shaker and add the remainder.
Add the 1 shot of rum.
Lastly add the ice and ginger beer.
Gently mix your conction. You don't want to vigirously shake it because of the bubbly ginger beer which will explode on you. Take it easy man!
Pour into a high glass and drink. Salut!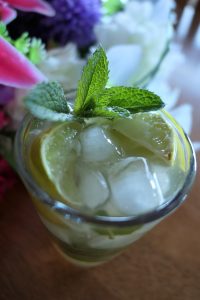 Difficulty: Easy peasy