Hello hungry peoples,
My poor neglected blog. What can I say?? This year has been a bit too busy with a bit too much going on. Since I am starting back with full time work the situation is not going to improve anywhere in the near future.
I will try to still share my cooking successes, there is just a lot less time for recipe testing so there may be less of them. I did get lucky with this one though. I have been working on chocolate scones for ages. I could never get them chocolately enough and they would turn out too dry.
This recipe is amazing, almost brownie like in it's chocolately-ness with the perfect crunch from hazelnuts. I have recently discovered the American method for cutting scones. Instead of messing around with biscuit cutters, just form the dough into a round and cut it like a pie. It is much less fussy and gives the scones the right amount of -next-to-each-otherness to make nice tall scones. Lets get into it!
Nutella Chocolate Scones
Prep time:
10 minutes
Cook time:
20 minutes
Total time:
30 minutes
Yield: 8
scones
Calories per serving: 705
Ingredients
2 cups

self-raising flour

1 1/2 cups milk

1 1/4 cup

chocolate chips

1/2 cup icing sugar
1/2 cup hazelnuts
1/4 cup nutella
1/4 cup cocoa

125 g

butter

1 teaspoon

salt

1 teaspoon vanilla paste
Tools: baking pan
Cooking Directions
Preheat the oven to 180 °C.
In a large bowl mix 2 cups of self-raising flour, 1/4 cup cocoa, 1/2 cup icing sugar, 1 cup chocolate chips and 1 tsp salt.
Grate the 125g of butter and stir it into the flour.
Add the 1 1/2 cups milk and 1 tsp vanilla paste and gently fold it together. Knead the dough as little as it will make it tough.
Turn the mixture out onto a floured board and form the dough into a round. Place on a baking pan with baking paper and cut into triangles like a pie. If you have time chill the dough a bit before baking.
Put the tray in the oven and cook for 15-20 minutes.
Once the scones are cooked, let them cool while you prepare the nutella and chocolate drizzle. Place 1/4 cup nutella and 1/4 cup chocolate chips in a bowl. Microwave in 30 second intervals until it is melted together. Drizzle on top of the scones and let it set. That's it, you're done!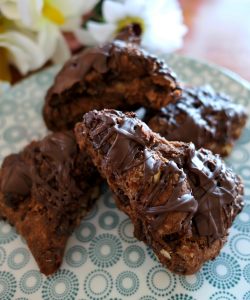 Difficulty: Easy peasy