Hello hungry peoples,
Today you are going to get an extra special treat. We are going to discuss a favourite food haunt and get not one, but two copycat recipes. Amazeballs right? Let's get into it. Pappa Rich is a chain Malaysian restaurant located everywhere in Australia and New Zealand. There is a reason it is so extensive, for fast food they offer some really interesting choices on their menu. They also have a very efficient concept where you select your food, write it on an order form and ring the bell so they will collect it. This means no faffing around waiting for service. You choose food, they cook food, food is delivered at maximum speed. This I love. I hate waiting for food because I am always staaaarving.
Speaking of food, while Pappa Rich is not exactly setting the world on fire with their originality, they provide an expansive introduction to the world of Malaysian cuisine. Malaysian food is complicated to begin with. It contains so many different cultural influences, the main ones being Chinese, Indian, Indonesian and ethnic Bornean citizens, as well as a dash of Thai, Portuguese, Dutch, and British. This has produced an amazing food culture which contains both diverse cooking methods and flavours. My first comment about Pappa Rich is that the menu is freaking huge and certainly reflective of the vast range of Malaysian food. There is no way I can run through everything here but I will try to give you a taste.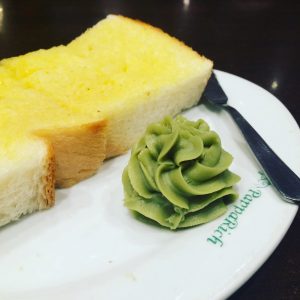 Pappa rich is well known for their carbs. They have roti, naan and hainan bread. My favourite is the roti, which you can get stuffed with a variety of goodness. Hainan bread is a fusion of Eastern and Western culinary cultures. It is crispy on the outside and very soft on the inside, served with butter and kaya (coconut jam). If you have never had kaya before you have to try it, especially if you are a jam fan. It is easily the best jam I have ever had, being super creamy with a hint of coconut. You can get the different breads separate or as part of a food platter. These usually consist of a curry, from beef rendang, to curry chicken, to satay. You can also get tandoori chicken, for people wanting something a little less spicey. These usually have a sambal and a lentil curry on the side. I really enjoy having all of these different little tastes together.
The noodle menu consists of stir frys and soups, tending towards the traditional. You have your laksas, dried fry noodle, wet fry noodle etc etc. They also have a couple steamed chicken dishes with soup and a curried fish head noodle soup, both of which look very interesting. There is also an extensive rice and meat menu including your rendangs, sambals, congees and nasi goreng. Phew!…….I think that covers most of the mains.
The other thing I like about Pappa Rich is their extensive drinks menu. These have an asian bent and are super interesting. They have the ubiquitous asian teas and coffee. There are also bubble pearl/jelly drinks, sometimes topped with lashings of cream. Soda drinks include barley water, lime and lychee. The ice cream sodas come in matcha, lime and lychee, and black sesame flavours. All look amazing but my favourite is a coconut slushie called "Coconut Paradise".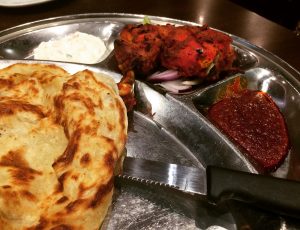 So let's move on to recipes. When I visit Pappa Rich my favourite meal combo is to get the tandoori chicken with a coconut paradise drink. Today I am cheating with the tandoori chicken, using a tandoori paste, which makes life a lot easier. The cooking method is a great way to get a nice char on the meat without the hassle of using charcoal. The coconut paradise is super simple. They charge $7 for these at Pappa Rich, so knowing how to make your own is all kinds of awesome. It is the simplest recipe ever and taste exactly like the restaurant version. All you have to do is visit an asian grocery and obtain a frozen young coconut and coconut water. If you can't find one in the freezer, they will usually have the same thing in the fridge section. You just have to plan ahead and freeze it.
Tandoori Chicken and Raita
Prep time: 10 minutes
Cook time: 30 minutes
Total time: 40 minutes
Yield: 4 serves
Calories per serving: 172
Ingredients
500g chicken pieces (thighs, drumsticks etc.)
4 tbsp tandoori paste
200g tub natural greek yoghurt
2 tbsp lime juice
1 cucumber
1 tsp salt
1/2 tsp cumin
Pinch cayenne pepper
Couple mint leaves
Extras: store bought naan or roti
Cooking Directions
Marinate the chicken in 4 tbsp tandoori paste, 4 tbsp of greek yoghurt and 2 tbsp of lime juice for up to a day, if you can. I have managed under an hour and still produced a good result so don't worry too much if you didn't prepare ahead enough. Happens to me all the time. Just throw it together and do it! Skin off or on with the chicken is up to you. I tend to lean towards skin off as the tandoori paste is so flavorful you don't need it.
Preheat oven to 220 degrees C. Put a rack in a baking dish. By using this for the chicken you are producing a barbecue effect, rather than the chicken stewing in its own juices, and meat will get a nice char on it. Roast the chicken for 30 minutes, turning midway. That's it your chicken is ready.
While your chicken is cooking make the raita. Raita is a yoghurt cucumber sauce which is wonderfully cooling while eating spicey food. It is super easy to make and will make your tandoori chicken soooo delicious. Cucumber and mint is probably the most common variation and that's what we are making today. Coarsely grate your cucumber and mix it with the remaining yoghurt.
Coarsely chop your mint leaves and also add it. You can add more mint if you like but I mostly like my mint in ice cream.
Add 1 tsp of salt, 1/2 tsp cumin and a pinch of cayenne pepper. A lot of people put garlic in their raita but I find it overwhelms the other flavours. That's it, your raita is complete.
I serve my tandoori chicken with the raita, a mixed green salad and some indian naan bread. Just brush the bread with some melted butter and char it under the grill. You can even add a bit of garlic, if you are so inclined.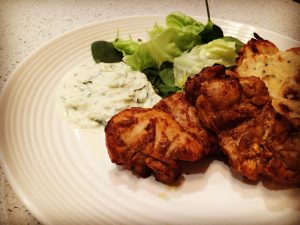 Coconut Paradise Drink
Prep time: 5 minutes
Cook time: 0 minutes
Total time: 5 minutes
Yield: 1 serve
Calories per serving: 180
Ingredients
1 cup coconut water
1 frozen young coconut
Cooking Directions
Put your frozen young coconut and coconut water in the blender and use the ice crushing setting to blend. I usually hold the frozen young coconut container under a hot tap to loosen everything and get it into the blender. If it isn't liquid enough after blending add some more coconut water and blend a bit more. That's it, your done!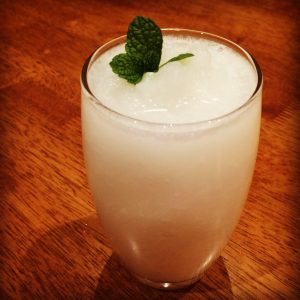 Difficulty: Easy peasy