Hello hungry peoples,
I just love the earthy notes of roasted root vegetables, especially when paired with some serious meat. The lentils round out this dish to make something a bit special and very satisfying. If you haven't had puy lentils before they are the king of lentils. They have a really good flavour and tend to hold their shape more compared to other lentils. The lack of sogginess is another reason to plan ahead and soak your beans rather than getting them out of a can. The texture just isn't the same. Puy lentils are particularly popular with French cooking so naturally all you need to do to make them sing is to add some good 'ol butter. Let's get into it!
Beef with puy lentils and roasted root vegetables
Prep time: 24 hours
Cook time: 30 minutes
Total time: 24 hours 30 minutes
Yield: 4 serves
Calories per serving: 671

Ingredients
4 

scotch fillet steaks

1 cup 

puy lentils

4

baby beetroots

1 bunch 

baby carrots

3 cups 

chicken stock

5 tbsp 

butter

1/2 cup 

fresh parsley

1 tsp 

salt

1 tsp 

pepper
Cooking Directions
Soak the 1 cup of puy lentils in 3 cups of water the night before you plan to cook the dish.
Preheat oven to 200 °C
Scrub the baby carrots and remove the tops but don't peel them as you will not have anything left.
Scrub and quarter the beetroots ( if largish).
Place carrots and beetroots in a baking tray, drizzled with olive oil plus salt and pepper. Roast for 30 minutes.
Take the steak out of the fridge so it can get to room temperature.
Drain and place the lentils in a small saucepan with 3 cups chicken stock and cook over high heat for 20 minutes while the steak is cooking. Drain before serving.
Season the steak with salt and pepper. Put a frying pan on medium heat with 1 tbsp of olive oil and butter. Add steaks and cook until browned on both sides. You still want it a bit squidgy when you touch it (which is medium rare). Let the meat rest for a bit.
Mix the lentils with the roasted vegetables, the rest of the butter and the parsley. Slice the steaks and lace on top. That's it, you're done.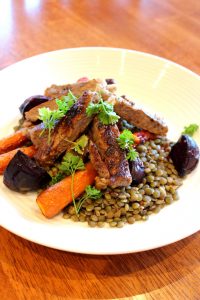 Difficulty: Easy to medium