Hello hungry peoples,
Continuing our series on duck, this is what you can do with the fabulous duck fat, stock and meat left over from your amazing roast duck. Risottos can be hard work. Sometimes you spend hours adding stock and slowly stirring the rice to get an OK result. One of my favourite websites "Serious Eats" has come up with a really cool and easy way for getting a lovely creamy risotto which completely removes the hours of stirring. I think I am in love. J. Kenji López-Alt is my kind of man. He does most of the test kitchen stuff at Serious Eats and he has never lead me astray.
The craziest addition is the use of whipped cream. Apparently this is a trick used in Michelin starred restaurants. I have tried with and without and it is definitely worth the effort. The risotto will be unbelievably light and creamy. I have tried to simplify the methodology, removing the rice washing and incorporating the leftovers from my roast duck. You will need a pan with a lid. If your fry pan doesn't have one I have had some success with using baking trays. It is by far the best risotto I have ever made and it only takes about 45 minutes. Enjoy!
Duck and Mushroom Risotto
Prep time: 10 minutes
Cook time: 35 minutes
Total time: 45 minutes
Yield: 4 serves
Calories per serving: 619
Ingredients
1 1/2 cups

arborio rice

1 cup 

white wine (or extra stock)

1 litre

duck stock (or chicken)

3 tbsp 

duck fat (or butter and olive oil)

2 cups

leftover roast duck

1

leek

2 cloves

garlic

3/4 cup

cream

30 grams

parmesan

4

 swiss brown mushrooms

Handfull

baby spinach

2 tbsp

parsley
Cooking Directions
Heat up some of the leftover duck fat and fry the leek and garlic until they are translucent. You can use a normal onion but I love the flavour the leek imparts.
Add your mushrooms and fry until brown and golden. Remove from pan and set aside for now.
If needed add some more duck fat to the pan. Fry your arborio rice until golden.
Add all of stock (bar one cup) and the cooked vegetables.
Turn your risotto onto high heat and get a good simmer going. Give the rice a stir. Put a lid on your pan and turn the heat down to low and leave for 10 minutes.
While this is happening whip the 3/4 cup cream until stiff peaks form and set aside. Grate your 30 grams of parmesan cheese so that it is ready to go.
After 10 minutes, remove the lid and give the rice a good stir.
Add the remainder 1 cup of stock and 2 cups of duck meat.
Put the heat back on high and stir the rice until cooked through and creamy. This will take about another 10 minutes.
Take the pan off the heat. Stir through the parmesan, baby spinach, cream and parsley. That's it, your done!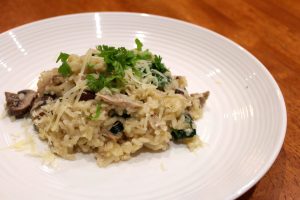 Difficulty: Medium