Hello hungry peoples,
Ona Coffee is famous in Canberra. It houses one of the world's best baristas; Sasa Sestic. Sasa won this title in 2015 with his signature coffee containing  a splash of Clonakilla shiraz viognier juice. This ups the cost of the coffee to $200 a kilo, which I am sure some of us coffee lovers would gladly hand over to sample something as special as this.  They haven't rested on these laurels though at Ona. Barista Hugh Kelly followed up, winning the Australian Barista Championship in 2016.  As you would expect the coffee is excellent at Ona but it is unfair to limit the cafe to this. They also offer breakfast and lunch and frankly the food is also amazing.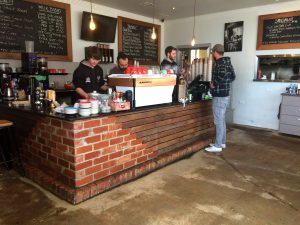 The breakfast and lunch menu is seasonal and very modern (some would say hipsterish). The breakfast menu is amazing and I have to admit I am unusually unable to resist it at any time of day. Brulee French toast? Yes please! An omelette with stilton cheese? Oh lordy yes! Seared sardine fillets with fried sambol oelek eggs?? Oh dear…I may explode.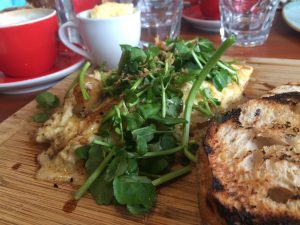 When I am feeling strong with will power I have tried a few of the lunch dishes including duck confit tacos. These should more appropriately be called burritos being in a soft tortilla shell but were appropriately rich and unctous. They also offer interesting burgers such as King prawn with chipotle aioli, a chicken burger with piri piri or a classic scotch fillet sanga with onion jam. The accompanying chips are always excellent. Piping hot and crispy!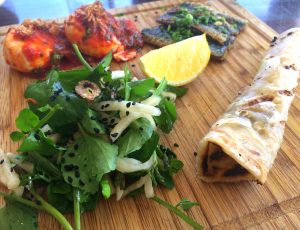 If you have some room left they also freshly bake pastries and cakes on site, including all the cronuts you could ever desire. They obviously have some serious baking skills in the kitchen as everything is delectable, including the cronuts, which I have found to be dissapointing elsewhere. They also have cruffins, which is apparently a thing now.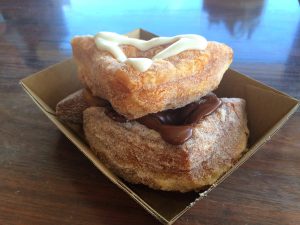 Aside from the extensive coffee menu, the rest of the drinks menu is also interesting and seriously trendy. Kombucha is a new health craze, a  fermented tea drink that people usually have to make at home to enjoy. Ona offers a few varieties; Apple Crisp, Hibiscus Kiss and Ginger Lemon. I tried one and to me it tasted like vinegar water. Not my thing but obviously some people love it. The milkshake and thickshake menu is irresistible with flavours such as Lemon Meringue Pie, Peanut Butter Oreo, Gingerbread Man and Ferrero Rocher. Of course they roast their own coffee beans and they are available for purchase so you can make some award winning coffee at home.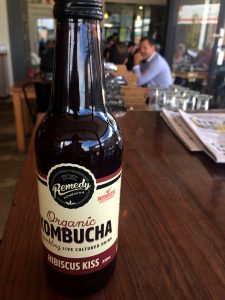 To sum up, Ona Coffee is just plain fabulous. I also love that the industrial wasteland that is Fyshwick is really stepping up  its game in regards to food and drink. If Fyshwick is a little too far for you, you can sample Sasa's wares at his other cafes; Ona in Manuka and The Cupping Room in Civic. Sasa is building a coffee empire and doing it well.
You can read more about Sasa's  amazing "Worlds Best Barista" win here.
One Coffee
Weekdays: 7am – 4pm. Weekends: 8am – 3pm (kitchen closes at 2.30pm daily)
02 6162 3320
68 Wollongong St, Fyshwick ACT 2603