Hello hungry peoples,
Today we are going to combine some fine wine, good pub food and art. It is essentially my perfect Sunday afternoon. I am usually kid free, slightly tipsy and giggling up the back with some friends while eating deep fried food. Heavenly!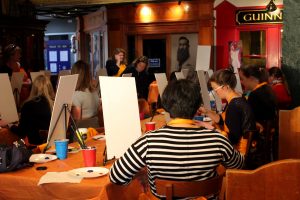 I have talked previously about my "Paint it Up adventures here but I thought it was worth a revisit as we were trying a different venue. Just to recap "Paint it Up"  is an art class, typically hosted in a pub or restaurant, where you are taught to paint a particular style of painting. On this day I was suitably excited as we were going to try to recreate a painting by Gustav Klimt, who is one of my favourite artists. He is the guy who paints dreamy pictures of women, usually with a lot of golden hues and warm colours. Very pretty!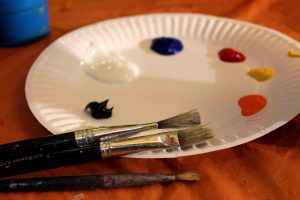 The class was held at the King O'Malley's pub in Civic at lunchtime on a Sunday. This makes for a very quiet pub, which is probably for the best because I needed to focus people! I am a super slow painter and I never even get close to finishing anything in the allotted two hours. I tried for the achievable goal of at least having paint on the whole canvas, which for me would be a vast improvement and no mean feat.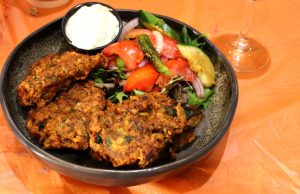 I managed to achieve this but it really cut into my wine drinking and eating time, so I am not convinced that this is a good thing. Maybe my art needs to suffer or I will just fade away food and wine free. So sad. The instructors were very helpful and gave great instructions, which having gone to a few of these, seems to just be how they do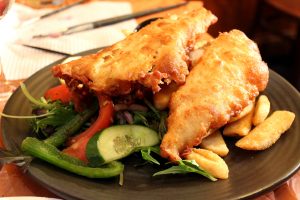 So let's discuss said food. My friends Sophie ordered an entree of zucchini fritters and salad which looked delicious and crispy and delivered on this promise.  I can't resist fish and chips in a pub. Two massive deep fried fillets with salad and a pile of beer battered chips was overly generous but seriously yummy. I may have eaten more than I probably should have. I paired this with a Pinot Gris, which goes perfectly with fish. The light crisp flavour also helps with the grease. Overall it was a fab afternoon and I even got a half finished painting out of it.