Hello hungry peoples,

Today we are continuing our duck series. Firstly we roasted a duck and you are likely to have some extra duck meat (which we will turn into risotto) and the carcass. Today we will now use this carcass to make the stock for the most delicious Duck and Mushroom risotto ever (which will use the leftover meat). I think duck is better than chicken for making a poultry based stock. It is a fattier meat and also seems more gelatinous. Your stock will pretty much turn into jelly once it has cooled. This is a good thing people. It adds body to your stock, stopping it from being weak and watery. This is also where home made stock is superior to store bought. You just don't get the gelatinous, jelly-ness from the store. This is seriously the easiest, simplest stock to make and it is worth the effort. 
I tend to roast some kind of poultry every couple of weeks so I usually have another bird carcass stashed in my freezer, which I also add to enhance the stock. If you have pets and you feed them chicken necks or wings, feel free to throw a couple in to give your stock a boost. Any vegetable odds and ends you have will also add to the stocks flavour.
I have seen many variations on making basic stock. Some people insist that you must caramelise the vegetables first, which means you dirty a baking tray and extend the cook time by 30-60 minutes. No thank you! Some people use leeks rather than onion. This seems like a waste of the delicately flavoured leek to me. If you have some leftover leeks tops, sure throw them in. The other tiresome thing people tend to do is skim the fat off while the stock is cooking. So much effort! Once your stock has cooled and been refrigerated, the fat will form a layer on top that you can easily remove with a spoon. Let's get into it!
Duck Stock
Prep time: 5 minutes
Cook time: 2 hours
Total time: 2 hours 5 minutes
Yield: 4 cups
Ingredients
1

duck carcass

2

litres water

2

celery stalks

1

onion

1

carrot

1

bay leaf

Handful

parsley (dried or fresh)

2

garlic

1 tbsp 

salt

1 tbsp 

pepper
Cooking Directions
Let's keep it simple people. Throw everything in the pot.
Fill the pot up so that everything is covered.
Bring the pot to a rolling simmer (almost boiling) and let it go for a couple hours. I leave the lid off the pot so that some of the water can evaporate. This concentrates the flavours in the remaining liquid.
After a few hours use a sieve to separate the liquid.
Allow it to cool and then refrigerate.
Once everything is very cold, scoop the fat layer off the top. You can use this fat for cooking. Duck fat will keep a couple of weeks in the fridge. That's it, your done!
If I am not using the stock immediately I usually put 2 cups into freezer bags. 2 cups is the perfect amount for all kinds of things, particularly gravy. This way you also know exactly how much stock is in each bag without measuring.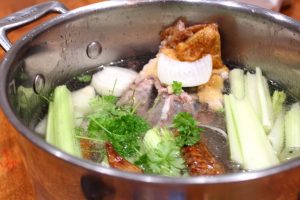 p.s. I have seen people add jellied stock, cut into cubes, into meatballs. Apparently it adds to the moistness of the meatballs once cooked and gives little bursts of flavour. I rarely have any duck stock leftover but if I ever time it right I'll give it a go.