Hello hungry peoples,
Today we are going seriously old school and making apricot chicken. This recipe comes from my great Aunt Joyce and is a bit of an Australian  classic from the 70s and early 80s.  It is also super easy as the sauce is simply french onion soup mix and apricot nectar. Normally I would never go near a pre-made powdered soup mix but in this case I will make an exception. It is delicious and I have yet to find an easy way to reproduce the result. Today I am going to serve it with carrots, broccoli and mashed potato. Yes I know….it is literally meat and three veg! The mashed potato is essential as it tastes amazing with the apricot sauce. I am even willing to put up with the whingeing from hubby. He hates mashed potato so hard. Let's get into it!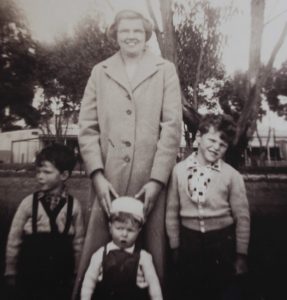 Apricot Chicken
Prep time: 30 minutes
Cook time: 2 hours
Total time: 2 hours 30 minutes
Calories per serving: 488
Ingredients
1 

whole chicken

40g

pack of French onion seasoning

850 ml

apricot nectar

2

carrots

1

head of brocolli

4

medium potatoes

50g

butter

1/4 cup

milk

Salt

Pepper

Olive oil spray
Cooking Directions
Preheat oven to 180 °C.
Put the whole chicken in a baking pan.
Season with salt and pepper and spray with a little olive oil. This helps the skin to crisp up.
Put the chicken in the oven. Depending on the size it will take between 2-2.5 hours.
30 minutes before the chicken is finished, peel and chop the carrots and add them to the baking pan to roast. Roasting carrots in chicken fat makes them super yummy. Season them with some salt and pepper while you are at it.
Now to make the mashed potato. Peel and quarter the 4 potatoes and cook in salted water until cook through. Once they are cooked through, drain them and mash them with the 1/4 cup milk, 50g of butter and lots of salt and pepper. The golden rule with mashed potatoes is the more butter, the better they will taste.
While the potatoes are cooking pour the apricot nectar and french onion soup mix into a saucepan.
Rinse the broccoli florets and add them to the nectar. We are going to cheat and cook the broccoli in the sauce as we heat it up. Put the pot on a medium heat about 5-10 minutes from the chicken being ready.
Carve up your chicken and serve with the carrots, broccoli, mashed potato and a generous pour of the apricot sauce. That's it, you're done!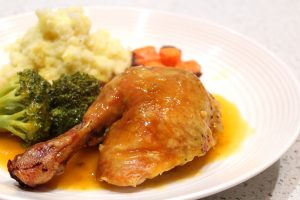 Difficulty: Easy peasy