Hello hungry peoples,
Today we are visiting a great little gastropub, conveniently located in the city. Shorty's is owned by the COCU food empire, who also own my favourite Italian place, Provini, which is located next door. These guys know how to do food and the menu at the pub reflects this.  There are some exciting food trends represented. I am very into Pork Bahn Mi at the moment and you can sample them as an entree trio of mini sliders. You can also get crispy fried squid, crispy ducks wings or prawn tacos. For a lighter touch there are a range of salads available and one of the more interesting options is the roasted cauliflower salad. I know I should order it to try it out but I just can't bring myself to order salad at a pub.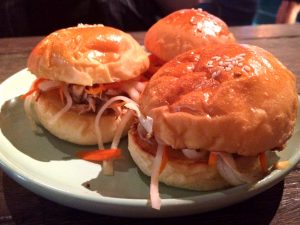 I can attest their range of burgers are delicious, served with perfectly hot and crispy chips. They also include more interesting options such as a soft shell crab salad burger. Plenty of traditional pub fair is also on offer. There is the quintessential chicken parma, fish and chips and an impressive t-bone steak which I can report is delicious! I especially like the touch of a good garlic butter with a big hunk of meat. Nom nom!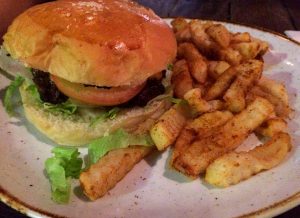 Lastly there is an interesting and impressive dessert menu. The deep fried golden gaytime has to be mentioned as a number of my friends are obsessed. To me it is reminiscent of asian deep fried ice cream. I am keen to try their banana split with maple syrup ice cream, peanut butter cookie,
candied bacon & bourbon caramel. Candied bacon…yes please sir, I want some more!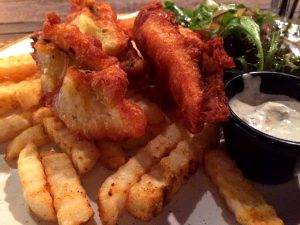 Given it is a pub I feel like I should devote some time to their drinks menu. There are the usual beer and wine but they have a great range of ciders (all the fruits!). There are jugs of cocktails including the ubiquitous sangria and the more unusual alcoholic iced teas. Phew! I think that covers the basics. It is a great little place. Get in in your belly!