Hello hungry peoples,
Today I am sharing a rare and beautiful butterfly – a recipe from hubby. My husband rarely cooks, not because he believes its a woman's domain, largely because he can't get near the thing because it is my territory people! When he does cook it tends to involve a lot of bacon or schnitzel, or the two together. Personally I have never understood the whole schnitzel thing. It just kind of seems like a big flat chicken nugget to me. Hubby has converted me though. His schnitzels are delicious! So what makes a good schnitzel? According to hubby it needs to have a light coating of egg and breadcrumbs and pan fried in lots of oil. Let's get into it.
Chicken Schnitzel Rolls
Prep time: 10 minutes
Cook time: 20 minutes
Total time: 30 minutes
Yield: 4 serves
Calories per serving: 645
Ingredients
2

chicken breasts

4

damper bread rolls

4 slices

swiss cheese

3/4 cup

breadcrumbs

1/4 cup

whole egg mayonnaise

4

lettuce leaves

1 

tomato

1/3 cup

olive oil

Salt

Pepper
Cooking Directions
Put the chicken breast on its side and cut in half. You need the chicken to be thin so it will cook through without burning the breadcrumb coating. If you have a particularly fat chicken breast cut it into thirds.
Put the 1/3 cup olive oil in a fry pan on medium heat. You need all that oil to make a lovely crispy crust on the chicken.
Crack the egg into a bowl and use a fork to mix.
Put the 3/4 cup of breadcrumbs in a bowl and season with salt and pepper.
Dip the chicken slices into the egg wash and then the breadcrumbs. Shake off the excess and put into the pan.
The chicken will take about 10 minutes to cook each side and cook through.
In the meantime slather both sides of your damper roll with mayonnaise. Be generous, it forms a delicious sauce with the hot chicken and stops the roll getting soggy.
Slice the tomato and add it to the roll.
Add a piece of lettuce to each roll.
Once the chicken is cooked add it to the lot and dig in. Nom nom!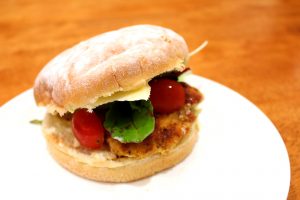 Difficulty: Easy peasy