Hello hungry peoples,
This is a tasty, mildly flavoured stir fry that the whole family can enjoy. It is also super simple and easy to make. One quick tip, when I use soy sauce in large amounts  I liked to use salt reduced soy sauce as it makes the flavour balanced and not over seasoned. Lets get into it!
Honey Soy Beef with Green Beans
Prep time: 10 minutes
Cook time: 20 minutes
Total time: 30 minutes
Yield: Serves 4
Calories per serving: 409
Ingredients
500 g 

beef steak

1 cup 

green beans

2 tbsp 

honey

4 tbsp 

salt reduced soy

1 cm 

piece of ginger

2 tbsp 

peanut oil

1 

garlic clove
Cooking Directions
Put your rice on to cook.
Thinly slice the beef against the grain. This helps to keep the meat tender.
Put a fry pan on medium heat with a few tbsp of peanut oil.
Fry the garlic and ginger and then add the beef. Try to not crowd the pan. You want the meat to brown, not stew.
Once the meat is close to cooked, throw the green beans in. Toss them around for about a minute of two.
Add the soy sauce and honey, heat it up and serve. That's it, you're done!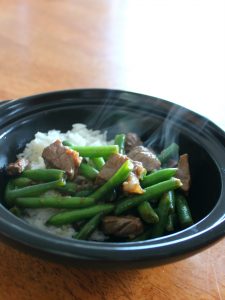 Difficulty:  Medium