Hello hungry peoples,
For those interested in up and coming food trends this recipe for you. Korean fried chicken is totally a thing, known for its super crispy exterior. It is also very different from other varieties of fried chicken. The crispy exterior is achieved by creating a thin paint-like batter which contains volatile ingredients such as vodka. Sounds weird right? Trust me it works. Once the chicken is fried super crispy, a sticky spicy glaze is drizzled on top, making for a heavenly combination. Korean fried chicken commonly uses a Korean sweet chilli paste, Gochujang, but I don't have any so I improvise with the regular stuff.
Korean Fried Chicken
Prep time: 10 minutes
Cook time: 20 minutes
Total time: 30 minutes
Yield: Serves 4
Calories per serving: 651
Ingredients
Batter
1/2 cup 

corn starch

1/2 cup 

plain flour

1/2 teaspoon 

baking powder

1/2 cup 

cold water

1/2 cup

vodka
Sauce
1 tbsp 

grated ginger

2 

garlic cloves

2 tbsp 

sesame oil

4 tbsp 

sweet chili sauce

4 tbsp 

brown sugar

4 tbsp 

soy sauce

2 tbsp 

mirin

2 tbsp 

sesame seeds

1 litre 

vegetable oil
Cooking Directions
This first step is to make the batter. Combine the 1/2 cup corn starch, 1/2 cup plain flour and 1/2 teaspoon of baking powder. Mix with the 1/2 cup cold water and 1/2 cup of vodka. The consistency should be liquidy like paint. Add some more water if needed.
Next we make the sticky sauce. Combine the 1 tbsp grated ginger, 2 crushed garlic cloves with 2 tbsps of sesame oil, 4 tbsp of sweet chili sauce, 4 tbsp of brown sugar, 4 tbsp of soy sauce and 2 tbsp of mirin in a small pot. Put it on a medium heat to let the sauce reduce slightly and thicken.
Put stove on high heat with the oil in a big pot.
Dice the chicken thighs and coat in batter. Fry the chicken in batches until golden brown.
Once they are all cooked drizzle the sauce on top and sprinkle with sesame seeds.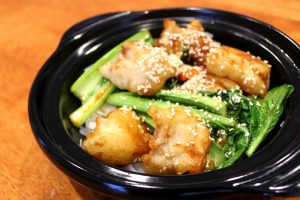 p.s. I sometimes add some veggies to the sauce towards the end to make it a bit more balanced.
Difficulty: Easy peasy