Hello hungry peoples,
Who loves a good pie? E-V-E-R-Y-O-N-E! This pie combines the classic flavours of pig and apple with some extra smokiness provided by using a ham hock. I have never been big on making pastry from scratch but this sour cream pastry has converted me.  Crispy and light…it is perfection. Let's get into it!
Ham hock apple pies with sour cream pastry
Prep time: 5 minutes
Cook time: 55 minutes
Total time: 60 minutes
Yield: 6 pies
Calories per serving: 926
Ingredients
1 p

ork hock

2

apples

1/2 cup 

frozen mixed vegetables

1 

onion

1/4 cup 

cheddar cheese

1 

egg

1 cup 

sour cream

2 cup 

plain flour

250 g 

butter
Cooking Directions
Preheat your oven to 180°C.
Now we make the dough. The easiest way is to use a food processor. Put the 1 cup of sour cream, 2 cups plain flour and 250g of butter (diced into cubes) into a food processor and pulse until it comes together. Chill the dough in the fridge for 20 minutes or overnight.
Put the pork hock in a large pot of water and cook on a high heat for 30 minutes (until meat has softened).
While the hock is cooking peel and grate 2 apples. Also grate your cheddar cheese. Finely dice the onion. Mix everything together with the 1/2 cup frozen vegetables (any mix is fine but I like corn, peas and carrots).
Once the hock is cooked slice and dice the meat. This is a little time consuming as you have to be careful to not include gristle and fat.
Melt a little butter and brush it onto the pie pan to prevent sticking.
Roll out the chilled dough. Ideally this is done with a granite roller to prevent the pastry warming up and the butter in it melting. The pastry is pretty wet so use lots of extra flour to prevent sticking. Your aiming for about a 5 mm thickness.
Cut large rounds out of the pastry and line your pie holes. Generously fill with the pie filling and top each pie with another round of pastry. Pinch the edges to seal and brush the pastry with a beaten egg. This makes the pastry look extra golden and yummy.
Bake the pies for 25 minutes or until cooked and golden. That's it your'e done!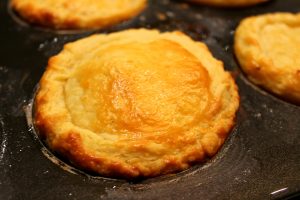 Difficulty: Medium. Pastry making can be a little tricky.