Hello hungry peoples,
I love a gazpacho but I think it is silly that people limit it to a cold option. It is also delicious hot and it really simplifies things when you can make a batch, eat the first one hot and then have the leftovers in the traditional chilled manner. The use of chile gives it a little kick but this recipe is mild enough that the kids can eat it too. Especially when you serve it with a side of my Sizzler copycat parmesan toast (coming next week!). This is also vegetarian and calory friendly for the health concious. Let's get into it!
Aside: If you are having trouble making the flavours of your soup pop it needs more salt and/or butter. You really need to season to taste but don't be scared to push it a little. It makes a huge difference.
Gazpacho
Prep time: 5 minutes
Cook time: 20 minutes
Total time: 30 minutes
Yield: Serves 4
Calories per serving: 132 
Ingredients
2 capsicums

2 onions
1 jar passata (700 g)
1 bunch shallots
1 chile
1 tsp paprika
1/2 tsp cayenne pepper
2 tbsp chicken stock powder
1 cup water
1 tbsp salt
Tools: Blender
Cooking Directions
Put the 2 onions, 2 capsicum and chile in a food processor and blitz them.
Fry the mix in 50 g of butter.
Add the passata, 2 tbsp chicken stock, 1 cup of water, 1 tbsp salt, 1 tsp paprika and 1/2 tsp cayenne pepper.
Bring to  simmer and let the flavours develop (about 20 minutes).
Chop shallots and sprinkle on top. That's it, you're done!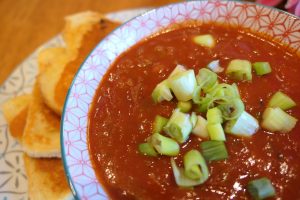 Difficulty: Easy peasy