Hello hungry peoples,
Today we are going to make a spiced carrot soup, which is both tasty and a bargain. Carrots are super cheap! The secret to making great hearty vegetable soups is to not hold back on the butter. I also really enjoy the flavour combination of carrot, coriander and ginger, which makes this dish really special. I haven't been able to convince my family of this so this is a dish I make for myself (thus the small serving size). They are wrong, this is delicious.
Spiced Carrot Soup
Prep time: 20 minutes
Cook time: 30 minutes
Total time: 50 minutes
Yield: 2 serves
Calories per serving: 547
Ingredients
4 

large carrots

1 

onion

3 cups 

chicken stock

2 tbsp

dried coriander

2

garlic cloves

2 tbsp 

minced ginger

100g

butter

1/4 cup 

sour cream

1/4 cup 

fresh coriander

Pepper

Salt

Pinch 

chilli powder
Cooking Directions
Dice the vegetables (or you can just throw everything into a food processor).
Melt the 100g of butter and fry the vegetables with the ginger, garlic, 2 tbsp dried coriander and the pinch of chilli powder.
Add stock and cook on a medium heat for 30 minutes.
Blend the soup and season with salt and pepper.
Top with lots of sour cream and fresh coriander. That's it, you're done!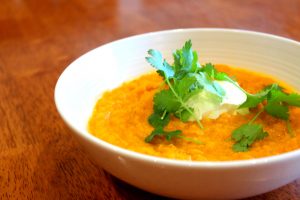 Difficulty: Easy Peasy